New twist in the tale of village taxi rank
Reporter: Ken Bennett
Date published: 30 August 2017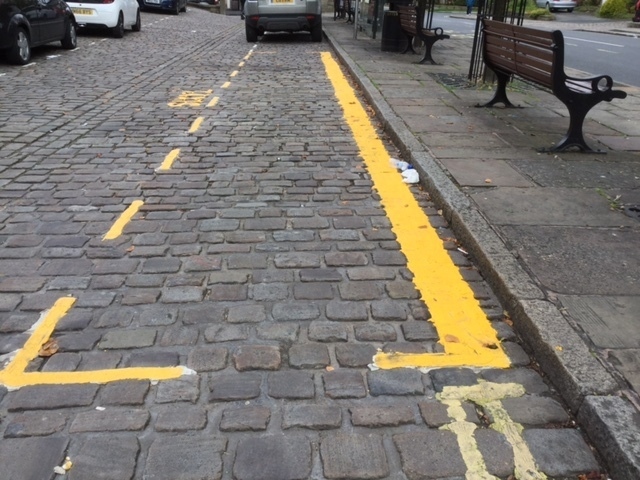 The lines, marking out a new hackney carriage rank in Uppermill's cobbled square.
PARKING restrictions in a conservation village square have taken a new twist.

Problems began when conservationists complained a two-bay Hackney carriage rank had been painted the wrong shade of yellow in Uppermill.

They were backed by villagers and businesses who said paintwork on the protected cobbles looked like a "Banksy daub."

And, along with protests on social media, they said the black cab parking point should have been sited near the village museum.

However in 24 hours of complaints about the paint, a team from Oldham Council repainted the taxi rank lines on the square primrose yellow.

But today, campaigning Saddleworth parish councillor Lesley Brown, chair of Saddleworth Civic Trust, who initially demanded the paint change, said: "It's looks worse. The paint is primrose yellow, but it's far too bright. The taxi rank is totally in the wrong place."

She was backed by locals who argue the black cabs will still park outside eateries and customers would not walk to the new bays to collect them.

And one local said on social media: "A time-limited hackney rank sited at the bus terminus turning circle between 11.30pm and 6am would be a more practical solution.

"A private hire holding lane could also be created at the same location, negating the requirement to use the already limited public parking provisions in Uppermill."

Royce Franklin, chair of the Saddleworth and Lees traffic sub-committee, said the taxi rank proposal was first discussed 18 months ago. The Local Authority have set legal procedures to effect any modification to parking restrictions.

"These were followed and at least one objection was received before implementation was approved. It is unfortunate it is only now further objections are being received."

Oldham Cllr Fida Hussain, Cabinet Member for Environment Services, said: "The hackney carriage stand is being introduced due to lack of facilities in Uppermill centre.

"Unfortunately there isn't an appropriate highway location close to the museum. The chosen location is the most suitable in central Uppermill.

"The yellow lines should have been marked in primrose yellow, and this has being rectified. This taxi rank is not yet operational. We need to erect signposts before this can happen."

And a council spokesman added: "Motorists can park in the taxi rank area when it is not operational - except on Wednesdays when the market is being held - but are subject to the two-hour maximum stay between 8am and 6pm."

Here are the restrictions:

l Permit holders 5.00am to 6.00pm Wednesdays only.

l Thursday until Tuesday, from 8am and 6pm, parking for two hours; no return within 3 hours.

l 8.00pm until 1.00 am daily, the taxi rank is in operation.