Teens start campaign for cheaper uni fees
Reporter: Lucy Kenderdine
Date published: 30 August 2017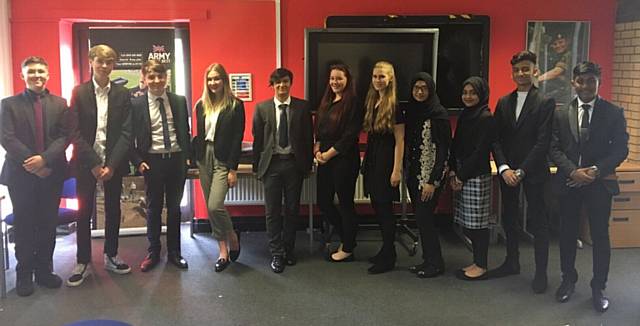 CAMPAIGNERS . . . teenagers from Oldham launch their fight for cheaper tuition fees with a petition
A CAMPAIGN demanding cheaper university education has been launched by a group of Oldham teenagers.

The group collected more than 400 signatures on their petition within the first day of campaigning and are aiming to collect the support of 7,000 before presenting the petition to Oldham West and Royton MP Jim McMahon.

The 11 teenagers from schools and colleges across Oldham met just one month ago through the National Citizen Service.

Positive

The NCS is a programme that provides 15 to 17-year-olds with a range of skills and experience that will help them in their future lives. It includes a section on social action - encouraging young people to get involved in their community and make a difference through fund-raising, volunteering or campaigning.

Team leader Shayma Khatun (16) said: "I believe tuition fees should be lowered because education has positive benefits for the rest of society and people should not feel they cannot go to university due to them fearing they will be in huge debt. Rather than spending money paying off debts, graduates could be circulating money in the real economy.

Since 2006, when tuition fees where tripled from £1,000 to £3,000 per year, the proportion of students coming from the most disadvantaged backgrounds have decreased by one third, according to UCAS. Tuition fees can currently be as high as £9250 per year, leaving a student on a three-year course with over £27,000 of debt from their tuition fees alone. This figure can be much higher once living costs are taken in to account.

Miss Khatun added: "Tuition fee should be lowered as it ensures equal opportunities for all, and not only for wealthy families who can afford to send their children to university."

The petition is on Twitter when you search Team Ward - Wave 5 or follow @TeamWard_2k17.