Hospice singers' hope for single
Reporter: Gillian Potts
Date published: 30 August 2017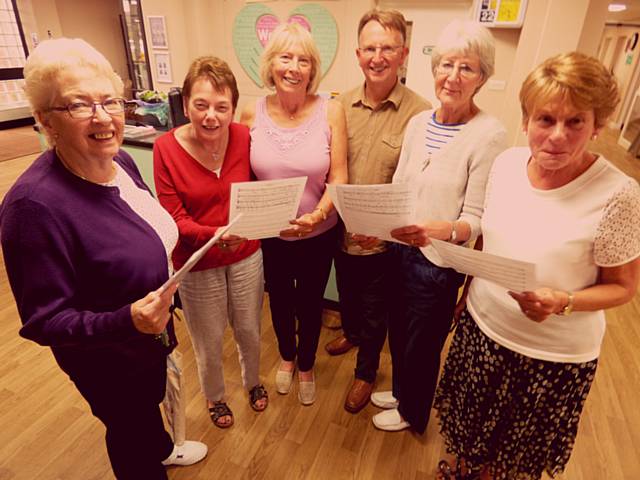 Dr Kershaw's Oldham choir members with choir master Paul Firth
SINGERS from Dr Kershaw's Hospice are standing together with others from around the country in a Sir Paul McCartney-backed bid to become the Christmas number one.

They will join around 140 staff, volunteers and friends from the newly formed UK Hospices Choir to record Sir Paul's 1984 hit "We All Stand Together" - also known as the "Frog Chorus" - at Rochdale's Springhill Hospice on September 2 as part of a charity CD due to be released in December.

The album "Stand Together" is a collaboration by Choirs with Purpose, featuring a compilation of uplifting cover songs by 10 significant choirs who sing for an important reason - to share their personal messages of hope, and the power of community.

The Beatle's icon has given his blessing to re-record the classic track which will be the album's Christmas release, bringing together all the participating choirs on one epic single.

All of the choirs will record with a well-known artist - yet to be revealed - who is backing their cause.

The UK Hospices Choir - made up of over 600 singers from hospices across the UK - is joined by the Missing People Choir, Britain's Got Talent Finalists in 2017 together with the Parrs Wood High School Choir who sang with Ariana Grande at One Love Manchester and the Greenwich and Lewisham NHS Choir, who hit the Christmas number one spot in the singles chart two years ago.

The UK Hospices Choir will also record their own track on the album, "My Heart Will Go On", made famous by Celine Dion and soundtrack to the blockbuster movie Titanic.

Springhill Hospice chief executive, Julie Halliwell, said: "We are so excited to be taking part in this important project but also hosting the recording of participating choirs in the Manchester region.

"It highlights the importance of the hospice movement and end of life care and also brings people together from across the UK to "stand together" and sing for good. We hope that everyone will get behind it, pre-order the album online now, and get this important message of collaboration to number one this Christmas."

James Hawkins, producer of "Stand Together" said: "We all Stand together' is the perfect song to bring together all the different choirs featuring on the album. The message, "one thing is certain we'll never give in", resonates with every group, and we are so excited to be bringing this classic song to a whole new generation."

Other choirs featuring on the album include the Games Maker Choir, Maggie's Cancer Centre (West London) Choir, Daniel Spargo-Mabbs Foundation Choir for Drug Awareness, Homelink Carers Choir and the Anstee Bridge Choir.

And to really bring the entire nation together, all UK pledgers who sign up for the album have the chance to be part of a pop-up choir and record their vocals on the single. The Choir with Purpose album will be released on December 15 and is available via pledgemusic.com/choirswithpurpose.