Jobs joy at mill
Reporter: Rosalyn Roden
Date published: 31 August 2017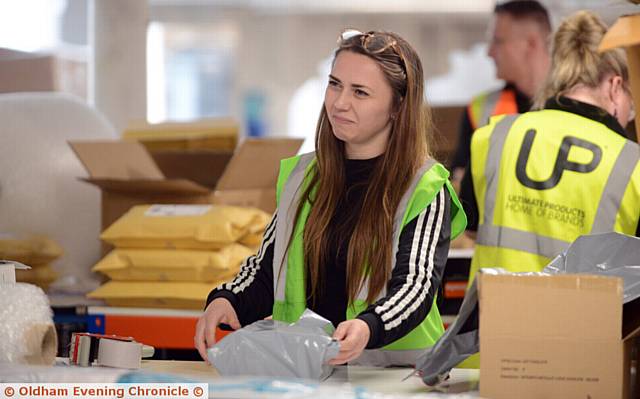 HAPPY in her work . . . employee Dominika Szoja
OLDHAM-based homeware, appliance and luggage group Ultimate Products has officially opened a new warehouse in a refurbished former cotton mill.

Heron Mill, in Hollins, has been adapted for storage and will complement existing activities at Ultimate Products' head office at nearby Manor Mill, Chadderton.

Oldham Mayor, Councillor Shadab Qumer, unveiled the new site at a grand opening on Tuesday which included a speech and short tour of the renovated building.

Managing director Andrew Gossage said: "This is a really proud moment in the history of our business.

"I have worked in Oldham for 12 years and something I have learnt is that everyone loves the mills. There is a real emotional attachment to these buildings.

"Heron Mill was starting to become rundown. The roof was leaking. We have laid 15,000-square-metres of felt roofing, replaced 478 windows, installed 600 new light fittings and relaid 13,000 floorboards to bring it to its current state.

"I'm hugely proud of what we've achieved.

"We take our responsibility as owners of Manor Mill and Heron Mill very seriously. We are building links with schools, we back local charities, but most importantly we really try to employ local people."

Jobs

Ultimate Products currently employs 250 staff in Oldham. The expansion into Heron Mill is expected to create between 80 and 100 new jobs initially.

The group sources, designs and sells about 2,500 cookery, dining, electrical, luggage, bed linen and other homewear products to more than 300 retailers across 38 countries. It includes Amazon, Argos, B&M and Homebase among its customers, owns the Beldray brand and the licence to sell some Salter and Russell Hobbs products in the UK.

Ultimate Products acquired its new site from shoe wholesaler the Jacobson Group last April, and have invested in the region of £3million to bring the mill into use.

Councillor Qumer said: "The transformation of the mill is amazing. Hopefully as they expand they will continue to create jobs in the area. The owners have a fantastic vision to keep the business local and operate both here and globally."

Ultimate Products was founded in 1997 by Simon Showman and Barry Franks. It was previously backed by private equity firm LDC, which held a 46 per cent stake. Earlier this year (2017) it was listed on the London Stock Exchange in a £105 million flotation. The company's full title is Ultimate Products Global Source Holdings and it is listed as UPGS.

Company founder and chief executive Simon said: "We want to continue employing people locally like it used to be and to take on up to 40 graduates over the next two years. Our long-term plan is to continue operating globally from our base in Oldham. We are currently looking at further mill sites in Oldham."

Bilal Zaheed (21) has worked for Ultimate Products since April as the firm's only apprentice. He is on a 12-month scheme with the hope of developing to Level 3.

He said: "I've been moving between departments because my manager wants me to progress. I've been packaging products for individual customers but will eventually move to Goods In."

Ultimate Products has forecast sales of more than £100 million this year. It held back from a stock market launch in 2016 until the EU 'Brexit' referendum had been held.

Earlier this year, Andrew said the firm's order book for 2017 had risen by 60 per cent.

UP had success at the 2017 Oldham Business Awards, where it was named Business of the Year (turnover above £10 million).