Peak experience
Reporter: Jacob Metcalf
Date published: 31 August 2017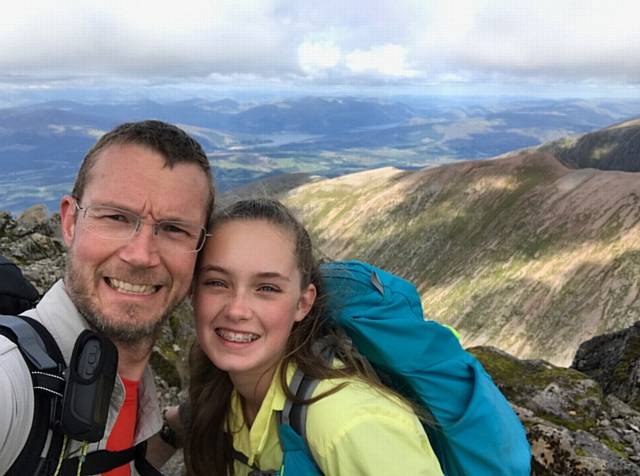 ON top of Scotland . . . Nick Parkin and daughter Bexi at Ben Nevis summit
A FATHER and daughter from Greenfield have completed a challenging 103-mile hike from Glasgow to the summit of Ben Nevis.

Nick Parkin and his 14-year-old daughter, Bexi, took on the West Highland Way, facing torrential rain, tired legs and ravenous midges between July 28 and August 5.

Bexi was inspired by the challenge which would help her in preparing for and completing her Bronze Duke of Edinburgh award at The Blue Coat School.

As well as walking miles each day, carrying a backpack weighing just shy of 10kg, the pair had to set up camp and cook before getting their heads down for a well-earned rest before the next day's trekking.

Nick said: "We decided to do it this summer as it seemed as good a time as any and Bexi was up for it straight away. To take this on, she has done brilliant.

"Bexi thinks I might have slowed her down. She might be right!"

He added: "The weather was quite mixed. We had torrential downpours and then glorious blue sky and it was warm and quite still."

About climbing the Ben Nevis summit at the end, Nick said: "To be honest after doing 100 miles you are pretty fit to take on the climb. Along the way there is quite a lot of hill walking. I think the route is crafted that way to challenge you."