The crumbling shame of our town hall
Reporter: by Janice Barker
Date published: 04 September 2008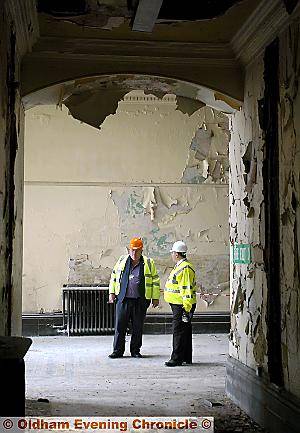 Council leader Howard Sykes, left and Steve Cooper, manager of the Corporate Property department, survey the decay.
Oldham Town Hall is only months away from a major roof collapse and a heavy snowfall this winter could see it off.

It would cost £25 million to £30 million to restore its roof, walls and interior so the grade II listed building could be put to any use.

Chunks of masonry are falling from the ceilings on a daily basis and heavy cast-iron decoration is breaking away from balconies.

Fireplaces, brass door decorations, furniture and plaster mouldings have been plundered, and the floors are littered with dead pigeons.

Historic civic furniture, chairs, decorations and bookcases stored behind steel doors inside are being moved out urgently before the ballroom ceiling falls in on them.

A 90 minute tour yesterday with councillors and council building experts revealed that the building is literally rotting away.

A huge ornate plaster dome in the 1917 extension at the back of the building has fallen to the floor, and the others are breaking away.

Water is running down the walls, and wet and dry rot has taken hold. Floors are dangerous, leaded windows are broken and there are huge cracks in the ceiling above the old courtroom.

Building surveyor Graham Dixon pointed out areas he had visited the day before, which had collapsed overnight due to heavy rain.

The most intact area is the old Borough Treasurer's hall, called the Egyptian Room after its ornate pillars and decoration.

The town hall opened in 1841, and was a copy of a the Ionic temple of Greek god Ceres, near Athens.

About 60 ft long, it was soon inadequate and the courtroom was added in 1880, followed by the Treasurer's hall and more offices, built between 1912 and 1917.

A blue plaque at the entrance commemorates where Winston Churchill stood on the steps when he was elected MP in 1900.

Steve Cooper, manager of the Corporate Property Service, said: "It would cost £25 to £30 million to restore the roofs, floors, stairways and walls so the building could be used.

"But it is no danger to people passing by as the roofs will fall internally."

After the hard hat tour, Council leader Councillor Howard Sykes said: "The lack of interest in the old Town Hall is criminal and someone should have done something about it before.

"Some of my colleagues were here three or four weeks ago and can see it has got worse in that short time.

"But it is time to decide if we want something like a theatre in here — because if we don't do it now it won't be possible. A bad winter could see the roof fall in.

"There have been one or two pipe dreams for the old Town Hall but the private sector is not interested.

"We need to ask people which bits are really precious. Is it the facade, the court room, the Egyptian room, and if so what do we do with it?

"Other town halls from the same period were much grander, look at Rochdale and Bolton.

"I recognise the old Town Hall is an iconic feature, but it is not a building the council has any use for, in fact we have surplus property.

"We have to have an honest debate about this. Up to £30 million could be two or three swimming pools, four or five primary schools or a new secondary school. "

The council has set up a special email address for people to end their suggestions to:

townhall@oldham.gov.uk




::Council officers moved out of the town hall for the Civic Centre in 1978, although small rooms were used by a variety of groups, and the court room was used as a satellite Crown Court until 1995.