New signs of campaign for safer Lydgate
Reporter: Ken Bennett
Date published: 03 October 2008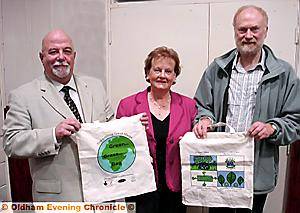 GOING green . . . Councillor Barbara Beeley, Saddleworth and Lees Area Committee chairman and community champion, with David Mcneeney, chairman of Greenfield and Grasscroft Residents' Association (left) and Mike Rooke, the association's secretary
SADDLEWORTH'S "forgotten" village could be restored if road safety and other community issues are highlighted, the committee heard.

A campaigning woman fighting to have Lydgate's name returned was given a sympathetic hearing by councillors.

Jenny Greenwood, who has lived in the village for 14 years, urged that funds be found to restore signs bearing the village name.

She said she had already asked Oldham Council to restore place name signs, claiming the village was being airbrushed off the map.

Last night, she told the meeting: "Oldham Council has been helpful but we really care about the place."

Ms Greenwood also asked for better road safety. She said speeding traffic ignored 20 mph signs and mounted pavements, causing risks to pedestrians. "It can be really scary," she declared.

"Perhaps we could have big flower-filled tubs to slow them down or hazard warnings," she added.

Councillor John McCann suggested that new signs for Lydgate could be combined with traffic hazard warnings.

He said: "Friezland faces the same problem. It is in danger of being swallowed up. We have to fight for these villages."

Councillor Barbara Beeley, the committee's chairman and community champion, said: "I deliberately chose to hold the meeting in Lydgate tonight to give it a sense of belonging."

The committee decided to examine the possibility of funding for installing traffic calming measures and agreed to write to the police about safety issues.