£25m power plan sparks into action
Reporter: Richard Hooton
Date published: 29 October 2008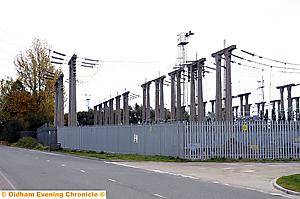 POWER plan . . . the electricity sub-station at Whitegate, Chadderton, which is being replaced
A MULTI-MILLION pound project is under way to keep the lights shining and power flowing in Oldham.

United Utilities is carrying out a £25 million project to replace the major sub-station which feeds electricity to 165,000 homes and businesses across north-east Greater Manchester.

The work will safeguard electricity supplies for residents in Oldham, Chadderton, Middleton, Failsworth, Royton, Shaw, Ashton and parts of Manchester city centre.

And bosses say the extra capacity of the new state-of-the-art equipment will help facilitate Greater Manchester's growth and stand the county in good stead for decades to come.

Project engineer Roy Clarke said: "We all take electricity for granted. This is a major investment for the region and it means people in this part of Greater Manchester will continue to have reliable supplies, now and in the future.

"Although it is a major construction project, all the work will take place at the existing site, so neighbours will not be inconvenienced."

The new sub-station, sited at Whitegate, in Chadderton, is known as a Grid Supply Point and takes electricity at 132,000 volts from the National Grid.

Power is then routed via over-head lines, underground cables and smaller sub-stations to more than 165,000 properties — where it arrives at a more customer-friendly 240 volts.

The sub-station is one of the last remaining installations of its type in England, having been built in 1968 on the site of the former Chadderton power station.

Mr Clarke added: "To maintain supplies we need to build the new sub-station before the old one can be demolished. Thanks to the compact scale of the new technology we have managed to fit it within the existing site.

"And because the new equipment is more compact it will all be indoors, so the visual impact of the site will be reduced once the old gear is decommissioned and taken away."

United Utilities is managing the project on behalf of National Grid and Electricity North-West, the company which owns the electricity distribution network from Manchester to Cumbria.

Work is expected to be completed by October, 2010.