Brief encounter of the scary kind
Reporter: Janice Barker
Date published: 06 February 2009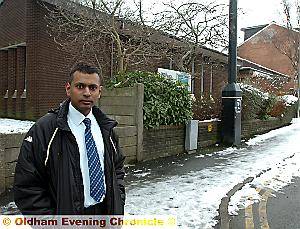 Praful Kalyan by the spot where he saw the big black cat at the Waterloo Street/Woodstock Street junction
An Oldham man faced his most frightening case when he came face to face with a big panther-style cat in the centre of town.

Praful Kalyan stopped in his tracks in Woodstock Street near Waterloo Street when he saw the black creature.

And as the cat turned its head and he saw its bright green eyes, a passing motorist stopped and took a photo on his mobile phone.

Mr Kalyan, who works at Oldham Law Centre in Bridge Street, off Union Street, shot back to his car for safety, and waited until the cat walked off up Waterloo Street.

He was too frightened to move until he saw people walking up and down Waterloo Street about 15 minutes later.

He said: "It was unmistakable, about a metre and a half above the ground, and all black.

"I had parked my car in Woodstock Street at about 9.15 am and I had my head down trying to avoid slipping on the paths.

"I just looked up and saw a long tail. It had its back to me, about six or seven metres away. I froze, then it turned round and I saw two green eyes.

"Then a passing silver car blocked its path, and I saw the driver taking a photo on his mobile phone, so I took the chance to run back to my car."

It is the second sighting of a mysterious large wild cat in Oldham in two weeks. In January a motorist was stopped by a large puma-like animal in Ripponden Road, near the M62 junction above Saddleworth.

Mr Kalyan, from Hollins, who later reported what he saw to police, said: "It was outside the church at the small roundabout on Woodstock Street and Waterloo Street.

"When I got to work and told people what I'd seen , they said there have been other sightings of large cats in Oldham."

A 2006 British Big Cats Society survey said there could be panthers, pumas and lynx in the wild, after 2,123 sightings of big cats were reported in the 15 months to July, 2005.

In December, 2003, Saddleworth Moor was a hot spot when shooters were warned to stay away after a wounded, panther-like animal was seen above Dovestone.




Are you the motorist who stopped and photographed the beast on Wednesday morning? Did you see the big black cat? Call Chronicle newsdesk on 0161 622 2118.