Snowy tribute by radio fan
Date published: 10 February 2009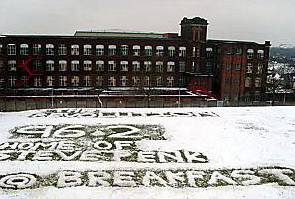 Love (radio) letters: snow writing by a big fan
When a fan of a local radio station offered to write its name in the snow, bosses at 96.2FM The Revolution weren't expecting what happened next.

The listener — Tristan Wood, from Shaw — spent three days in a large snow-covered field spelling out the station's name, frequency and slogan in 12ft high letters.

Station manager John Evington was delighted with the unexpected voluntary contribution to the station's marketing drive, and said: "The image lies right in the flight path of Manchester airport and we've received several telephone calls from bemused passengers who have spotted it from the air."

The old mill building in the background contains the offices of Littlewoods Shop Direct in Shaw.

Peter Webster, who works in the mill, sent the station a photo of Tristan's work taken from one of the windows. Revolution owner and breakfast show presenter Steve Penk has been encouraging others to follow suit when it snows.

"It's great to be back on truly local radio where listeners have real passion for the station", said Steve.

"Tristan's display of loyalty to The Revolution is to be commended and we really appreciate the extra publicity".