School that's set the ball rolling!
Reporter: Richard Hooton
Date published: 14 September 2009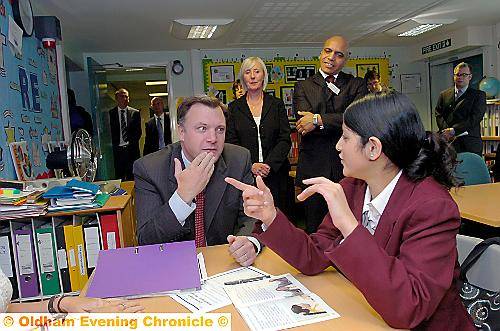 COMMUNICATION . . . Ed Balls learns the sign language for "thank-you" with pupil Nafisa Rehman, watched by head Carol Cawkwell and governor Basit Shah. Picture by VINCENT BROWN
A TRAIL-BLAZING Oldham school has been hailed by the Schools Secretary for leading the way in uniting the community to boost education.

Ed Balls MP visited Hathershaw College of Technology and Sport to unveil a plaque commemorating the opening of the first Co-operative Trust in the borough.

The school has teamed up with three primaries — Broadfield, Holy Rosary RC and St Martin's — and the Co-operative, Liverpool's John Moores University, Oldham Sixth Form College, Oldham Athletic Community Trust and NHS Oldham.

It is only the 25th Co-operative Trust in the country and the minister said he expected there to become 200 in the next year as other areas follow Hathershaw's lead.

Trust schools are part of the Government's drive to offer more choice to parents and forge community links.

Mr Balls toured the school on Friday watching lessons and speaking to pupils and teachers, including getting the thumbs up from children as he practised sign language at a special centre for hearing impaired youngsters from across the borough.

He told the school: "You are doing something innovative. It's not just about making sure everyone gets the qualifications they need but that everyone gets a fair chance. It's a moral thing. Every child has talent and there should be no barriers to them being able to succeed."

He told the Chronicle that local MP Phil Woolas had told him how the school had turned things around to become a big success story.

Mr Balls said: "Having seen it with my own eyes I can see why Oldham's MPs are proud of the school. They are blazing a trail and leading the way.

"Lots of other schools in the country in the coming months will come up to Oldham to see how they have done it here and copy it.

"The exam results this summer speak for themselves. There was a big jump in the results, particularly English and maths, which is encouraging. They surpassed everyone's expectations.

"It's an ambitious school that's on the up. They are very committed to working with other schools and the wider community to make sure that young people are well prepared for when they go on to Sixth Form and College.

"This gets all the parents and wider community actually in there running the school. It's a really powerful way of getting the community at the centre of the school."

Head teacher Carol Cawkwell said she was proud to have the minister's support and told him: "I really can't tell you how much this visit means to us. It's truly a special start to out partnership.

"We are absolutely determined to make a difference to this community and raise aspirations, standards and the attitude to learning in the whole community."

The West Oldham Co-operative Trust is one of the first in the country to have the theme of lifelong learning, involving everything from John Moores University running foundation degrees for parents to drop-in health sessions.

It can bid for funding not available to schools and provide more opportunities for teaching away from the classroom, enterprise events and new facilities.

Schools continue to be funded by the local authority but gain powers similar to voluntary aided schools.

They can appoint some of the governors, who employ staff and set admission arrangements. Priority for places will be given to the three primaries. A trust council will get parents involved.






Controversial academies are defended



THE Schools Secretary gave a passionate defence of plans for controversial academies to be built in Oldham.



Teachers' unions have questioned the benefits of putting education in the hands of private companies and claim they don't raise academic standards.

There have also been concerns over the locations of the academies not being big enough with resultant traffic and safety problems.

But during his visit to Oldham, Mr Balls said he was confident Oldham would reap the benefits.

He said academies set up in disadvantaged areas have taken on pupils from those communities and seen rising results.

He added: "It works and if we have something that works we should build on it. Academies work better when they are bringing in outside experts to become the sponsors.

"They are embedded in the community and are about raising the aspirations of young people.

"Whether academies or trusts, the key is to have a culture of high expectation and expect every child to succeed and get the community united."

The scheme will lead to South Chadderton and Kaskenmoor schools being replaced by an academy run by Oasis Community Learning at the Brook Mill site, Hollinwood.

Counthill and Breeze Hill make way for an Oldham College-sponsored academy at the former Orb Mill site, Waterhead.

Edutrust Academies Charitable Trust will sponsor the academy which will replace Grange School in Royton.

The academies will open in the existing school buildings next year before moving to the new sites in 2012-13.