Is deadly war being waged on streets?
Reporter: Richard Hooton
Date published: 22 September 2009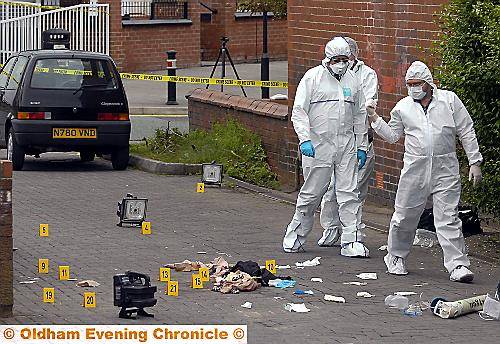 FORENSIC experts at the scene of the shooting at Block Lane in July
FEARS GROWING OVER ORGANISED DRUG GANGS

THE third murder involving Oldham in three months has raised fears of a deadly gang war raging in the borough.

Amran Khan (29) was gunned down outside his Nugget Street bungalow in Glodwick on Friday night shortly after he put his two children, aged four and one, to bed.

It's emerged that his brother Gulfan Khan (35) was one of 13 men, most of them from Oldham, arrested on suspicion of conspiracy to commit murder after shop worker Nasar Hussain (30) was shot dead in Salford in July.

Simeon Henderson (27), of no fixed abode, and Ryan Manning (21), of Bird Street, Higher Ince have been charged with the murder, with Mr Khan one of 11 men bailed until November.

Days after the Salford shooting, Junaid Khan (21), of Cotton Mill Crescent, Werneth, was gunned down in the car park of a doctor's surgery in Block Lane, Chadderton.

There are fears the shootings may be tit-for-tat retaliation that has escalated.

Two men arrested on suspicion of murder over Friday's Glodwick shooting are continuing to be questioned by detectives.

A police spokesman said: "We are keeping an open mind about a link between the murders. We can't rule anything out at this stage."

Only last month, the Chronicle revealed police fears that gun crime has spread to Oldham through Asian gangs using shotguns and automatic weapons to protect drug-dealing.

Street shootings dropped by 92 per cent when the Moss Side-based "Gooch Gang" was smashed.

But chief constable Peter Fahy says an emerging firearms threat to GMP and local communities comes from identified Asian organised crime groups.

Detectives have also probed connections to a shooting in March when a 28-year-old man was shot in Bolton Street, Glodwick and links to gangs in Bolton and Manchester.

Ward Councillor Mohammed Masud has pointed out that there have been three other non fatal shootings in Glodwick - in Savoy Street, Southhill Street, and Orme Street - in the past two years.

Nobody has been charged with Junaid Khan's murder but two men have been charged with possessing ammunition.

A white BMW recovered in Chadderton by police investigating that killing has also been linked to a shooting in Preston on the same night.

Mr Hussain, from Bolton, was shot six times at the Brookhouse supermarket in Winton, Eccles, in what's believed to be a case of mistaken identity. Only last week the shop was firebombed.

Just hours after the shooting, armed police with riot shields swooped on flats in Drury Lane, Chadderton. The murder weapon, a mac-10 submachine pistol, was later found under a car in Hinton Street, Primrose Bank, by a dog walker.