Seasonal singing has the ex-factor
Reporter: Ken Bennett
Date published: 30 November 2009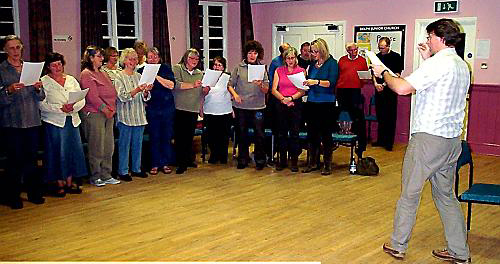 Sing UP . . . Alan Williams rehearses with some of the singers
SADDLEWORTH will turn back the clock when carols are sung in pubs and clubs this Christmas.

Saddleworth Society of Singers' West Gallery carol parties incorporate music, dance, food and drink.

The concept has been spearheaded by Alan Hartley-Smith, whose hobby is the reconstruction and realisation in costumed performance of historical dance.

A member of the White Rose Early Dance group, he said: "This idea is new in 21st century Saddleworth but, in fact, is a revival of a tradition dating back to the 1700s.

"There were choirs in great cathedrals but singing in local churches was usually very poor. Societies of singers were formed using local material and works by national composers of the day. To avoid distracting the congregation, singers and musicians sat behind in the West Gallery of the church, hence their colloquial name. This led the congregation in the singing of psalms on Sundays and robust folk-based carols at Christmas.

"However, on Saturdays the same people also led sing-alongs in the tavern and sometimes rather mixed-up the two genres."

Mr Hartley-Smith contacted distinguished composer, Alan Williams, director of the Saddleworth Consort, which will act as the core for the public participation in the carols.

Greenfield Brewery will provide a Singers' Ale and period food will include pottage and taffety tarts for the Delph event.

"This could emulate the revival of the Rushcart by the morris men and become another seasonal Saddleworth attraction." Mr Williams, who lives in Delph, has had his music performed and broadcast by some of the UK's leading ensembles, including the BBC Philharmonic.

The first singing event will be incorporated into the Delph Christmas lights switch-on on December 5 and will continue at Delph Band Club afterwards.

The next event will be staged at the Church Inn, Uppermill, on December 11, at 7.30pm.


Lights show at the Roxy

RESIDENTS are invited to the Hollinwood Christmas lights switch-on at the old Roxy cinema site next Wednesday (December 9) at 6.30pm.

All are welcome to join in with Christmas carols and enjoy festive refreshments. Anyone unable to attend can listen to the event live on Oldham Community Radio (99.7FM). Access is available via the old car park to the cinema.


Youngsters are boxing clever
CHRISTMAS angels at Shaw's St Joseph's Primary School and Royton and Crompton Specialist Sports College are bringing festive joy to disadvantaged children across the globe.

Between them, pupils have filled 350 boxes with treats for Operation Christmas Child, organised by The Samaritans.

The charity sends around 1.3 million shoe- boxes to children in hospitals, orphanages, camps, shelters and impoverished neighbourhoods.

The boxes were filled with basic items like soap, toothbrushes and toothpaste as well as gifts such as games, colouring books and clothing.

Co-ordinator John Egan said: "It is encouraging to see pupils putting the needs of others before their own personal desires."


Banding together

Greenfield's Christmas tree will be lit up on Thursday accompanied by music from choirs and a band.

The community-funded tree has been organised by Greenfield and Grasscroft Residents' Association Street Scene Group.

It will be put up at the side of the bridle path on Chew Valley Road. During the event, which starts at 6.30pm, there will be carols from the Greenfield and St Mary's School choirs accompanied by Boarshurst Band.


Charity carol concert

CHILDREN from two Shaw primary schools will bring the sound of Christmas to Manchester Cathedral at a charity carol concert.

The Farrowdale House Preparatory School choir and Buckstones Primary School brass band will take to the stage on December 8 to raise money for MedEquip4Kids.

The charity funds medical equipment at children's wards and neonatal units at hospitals across the North-West.

But it also needs more than £30,000 a year to fund its Clown Doctors who visit every week to keep young patients amused with music, jokes, magic and laughter to help take their minds off hospital.

Fantastic

All proceeds from the Manchester Cathedral concert will be donated to the project.

MedEquip4Kids fund-raiser, Rose Franks, said: "It's a fantastic opportunity to get into the Christmas spirit while helping children in hospital get the best Christmas possible."

Tickets for the 7.30pm concert are £6 for adults. Accompanied children go free. Call 0161-798 1600 or visit www.medequip4kids.org.uk.