Parker bears the brunt of Miller botch-up
Reporter: RICHARD HOOTON
Date published: 14 January 2010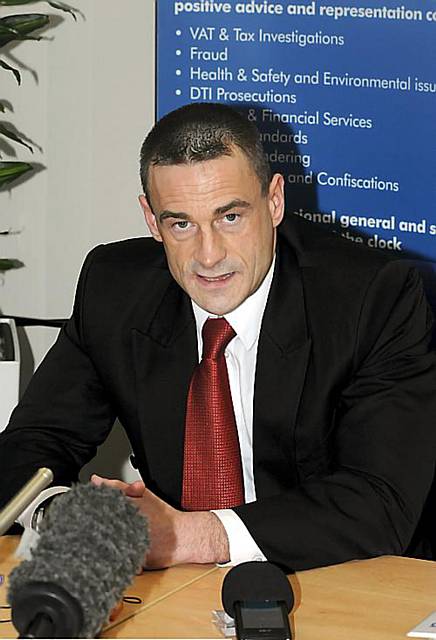 LEGAL action . . . Vance Miller
Questions raised over chief exec's future
A CALL has been made for Oldham Council chief executive Charlie Parker to take responsibility for the bungled fraud case against kitchens boss Vance Miller.

Judge Jonathon Foster QC threw the case out of court after ruling the £5 million investigation and 17-week trial had been "misconceived from the start."

And the final bill could be much higher as Mr Miller yesterday confirmed to the Chronicle that he would sue the council.

At a press conference, he claimed the council owed him millions but yesterday he declined to name a compensation figure.

He said: "I'm certainly going to take legal action.

"I hope they will pay out what they owe me satisfactorily. I will take action ASAP."

Judge Foster said the prosecution was "an abuse of the process of the court" and that he could not rely on the evidence of Oldham Trading Standards (OTS) head Tony Allen — who has been suspended by the council ahead of an independent review of the case.

But Independent parish councillor Ken Hulme says the chief executive should take ultimate responsibility for the fiasco.

On top of the millions of pounds of cuts that have been made and are going to be made in the next financial year, he says Oldham can ill-afford the massive legal bill for the botched prosecution, which will be a devastating blow for jobs and services.

Councillor Hulme said: "If Charlie Parker was a football manager this latest in a long run of poor performances under his management would be raising serious questions about his future.

"This isn't just a one off. Recently there have been a series of blunders which raise serious questions about the way Oldham Council is being run.

"We have just had the episode of the Chadderton Wellbeing Centre, an astonishing failure to keep the running costs of the new centre properly under review. The 'administrative error' which led to Dr Kershaws losing £8,000 in rate relief is another example of a council which seems to be poorly managed and out of control.

"Charlie Parker was brought in on an enormous salary to improve the poor performance of Oldham. Apart from bringing in outside consultants at huge fees to 'rationalise' the council — a job a lot of us thought we paid chief executives and senior officers to do — little has changed as far as the public is concerned."

A council source pointed out that the case had been running since 2006, well before Mr Parker was appointed in July, 2008.

A council spokesman said the council could not comment in case it prejudiced an independent review of the investigation.


VANCE FOR MAYOR?

VANCE MILLER, seemingly tongue in cheek, has announced his candidacy for the Mayor of Oldham.

He insisted he wasn't joking as he told the Chronicle: "My slogan will be 'I have a dream.' The dream is for openness and honesty in local government. Isn't it time the people of Oldham had a change? I'm certain in respect of recent events there's a need for change."

When it was pointed out that the Mayor is a civic figurehead in Oldham — unlike some areas that have authority-running, American-style Mayors — and he would have to become a councillor and then be appointed Mayor, he said he would stand as an Independent councillor in the next election for Glodwick.

He added: "I think it needs a voice for the people in Glodwick."

If Mr Miller is serious about standing in Glodwick it is covered by the Alexandra ward where the current three councillors are a mix of Labour, Lib-Dem and Independent.