Police release details of hate-crime attacker
Reporter: Richard Hooton
Date published: 26 February 2010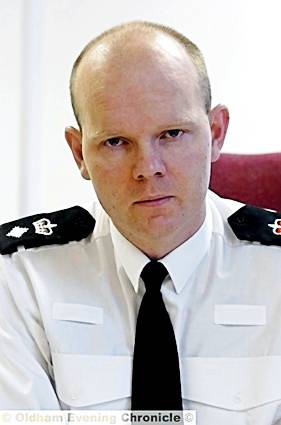 Oldham's new police chief declared the assault was being treated as racially-motivated
POLICE have released a description of one of the attackers involved in a vicious assault in Westwood — and have appealed for information.

The Chronicle revealed on Monday that four white teenagers were attacked by a group of seven Asian males, aged in their late teens, in Featherstall Road North.

The victims told the Chronicle they feared the incident on Wednesday, February 17, was racially-motivated.

The GMP press office twice told the Chronicle that it did not believe there was a racial element and had classed the crime as common assault.

It led to complaints that Oldham Police was refusing to abide by requirements in the classification of race attacks and on Wednesday, new Chief Supt Tim Forber declared in the Chronicle that the assault was being treated as racially motivated.

He said the victims had not made any representation to the police at the time that it had racial overtones.

But a decision had been made to treat it as a hate-crime because there had been two similar incidents in that area in the preceding days when racist language was used.

The attack left Patrick O'Brien (18), from Coldhurst, needing hospital treatment after suffering cuts and bruises from being kicked and punched in the head and ribs.

The other victims were left badly shaken.

Police say a first assault took place on Ellen Street, near to the old Wickes store, between 5.30pm and 6.30pm, with the victims attacked again on Chancery Street as they tried to make their way home.

They are now appealing for anyone who witnessed the attack, or who has information, to come forward. One of the offenders is described as being between 16-18-years-old, of big/muscular build and with black spikey hair shaved into a Mohawk.

He was wearing a black leather jacket and black T-shirt.

Det Cons Rick Sample, of Oldham CID, said: "There has been a lot of speculation about this incident in the press and the community, but I want to stick to the facts and try and find those responsible for this senseless assault.

"The victims have been able to provide a distinctive description of one of offenders, and I would appeal to anyone who either knows this person or thinks they recognise him from the description to call us.

"We need information from the public to help us with our inquiries and I would strongly urge anyone who knows anything to not keep it to themselves through misguided loyalty and speak to us, in confidence if needed."

Anyone with information is asked to call Oldham CID on 0161-856 9052 or Crimestoppers, anonymously, on 0800 555 111.