A warm welcome to the County of York
Reporter: Janice Barker
Date published: 21 April 2010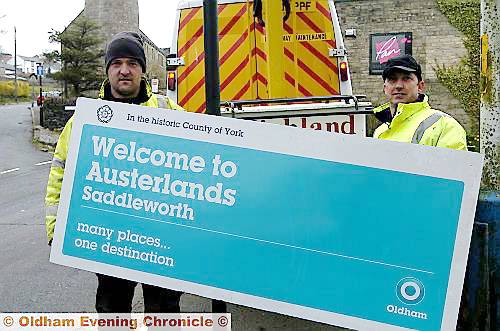 Anthony Briars (left) and Gary Clare, putting up the new Oldham Council sign welcoming visitors to Austerlands
Red and white unite to mark signs

THIS new sign welcoming visitors to Austerlands might have some people scratching their heads.

It is one of a series of new district signs being put up across the borough incorporating coats of arms and the historic names of the areas.

But while it features the white rose of Yorkshire, it also welcomes people to the historic County of York.

However, Roy Bardsley, secretary of the Saddleworth White Rose Society, explained that this is the right way to describe it.

He said: "Saddleworth was in the West Riding, and the correct name is West Riding of the County of York.

"We do welcome the sign although we are a bit disappointed with the small size.

"I would not say it is perfect but it is a step in the right direction, and they intend to do something to recognise properly the other parts of the borough.

We are glad they are doing this."

The white rose of York and the red rose of Lancashire will come together on Saturday when leaders of the rival associations unite at Grains Bar to see their historic counties commemorated in new signs.

The White Rose Society and Real Lancashire Society will meet on the hill top where Shaw meets Saddleworth, and the historic line between Lancashire and Yorkshire was drawn.

Mr Bardsley explained: "One will describe Lancashire as the historic county Palatine and the other will describe the historic West Riding of York."

Other guests will include Councillor Mari Wiswell, chairman of Shaw and Crompton Parish Council, and Councillor Brian Lord, representing Saddleworth Parish Council.

The signs will be unveiled at noon.