Singing the blues in Saddleworth
Reporter: LEWIS JONES
Date published: 26 April 2010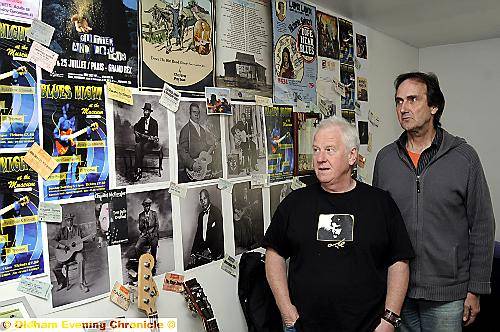 Photo: Chris Sunderland
BLUES brothers James Gradwell (left) and Neil Williams
Saddleworth's version of the blues brothers are hoping to bring a touch of New Orleans to the streets of Uppermill next month.

Friends and music fanatics James Gradwell and Neil Williams have spent years travelling far and wide to blues festivals Stateside to see acts such as BB King and Johnny Winter.

But this year they have decided it is time for Saddleworth to be served a hefty slice of the music they love.

Jim said: "We grew up during the blues invasion in the Sixties and it has spurred us to go to New Orleans and other festivals later in life.

"Saddleworth already has the band contest and folk festival, so we wanted to put on a blues show similar to places like Colne and the jazz festival in Marsden.

"It was brilliant being in the centre of New Orleans and Memphis. They have acts that would headline blues festivals over here just playing in a small jazz club on a Monday night."

The pair, who have organised the event at Saddleworth Museum on May 2, hope that well-known local singers such as Kyla Brox will draw in the crowds.

With other low-key acoustic performances at the Waggon Inn and other venues in the village, the organisers think the success of this year's event could mean an annual blues festival in the years to come.

Neil said: "I came back from the Chicago festival with so many posters and cards of people who wanted to play here in the UK. Looking out over Lake Michigan and listening to fantastic music was fabulous, just to recreate a small part of that in Saddleworth would be superb."

Performers will be on stage 5-11pm, with a bar for visitors.

For tickets call 01457-870 907.