Lancaster flypast will honour AVRO
Reporter: Janice Barker
Date published: 05 May 2010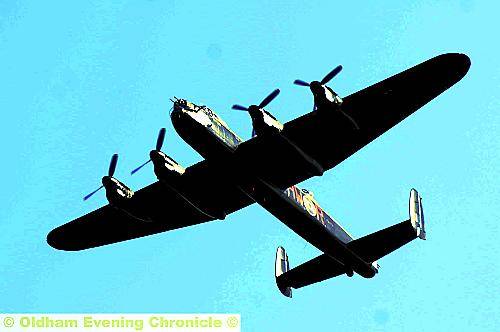 The iconic AVRO Lancaster which will fly over Chadderton later this month
A LANCASTER bomber designed in Chadderton will fly low over the town this month in tribute to the centenary of the world famous company which built it.

Alliot Verdon Roe (A V Roe) founded the first company in the world for the sole purpose of designing and manufacturing flying machines, in Manchester in 1910.

His factories — known as Avro's — included the massive Greengate operation in Chadderton which produced, among many famous aircraft, the war-winning Lancaster bomber.

In Oldham, during the Second World War, there were 29,000 people employed building Lancasters, including night shifts and sub-contractors across the town.

The Lancaster, with its distinctive silhouette and four Merlin engines, will fly over Chadderton and Manchester on May 16, to mark the anniversary.

It will dip to 100ft at Manchester airport, then rise to 1,000ft and is expected over the site of the AVRO factory in Greengate, now BAe Systems, at 4.38pm, travelling from Manchester centre towards Chadderton.

The prototype AVRO Lancaster made its first flight from Manchester's Ringway Airport on January 9, 1941, and a total of 7,377 Lancasters were built throughout the war, each costing £45,000 to £50,000, approximately equivalent to £1.4 million to £1.6 million today.

Designed in Chadderton by Roy Chadwick, the Lancaster was the aircraft chosen for the heroic raids on German dams in heavy industrialised valleys, immortalised by the film "The Dambusters".

And after the evacuation of British troops from Dunkirk, the Lancasters and other bombers took the war into the German heartlands.

The fly-past begins at 4.25pm from Manchester Airport. At 4.35pm it will fly over Manchester Town Hall and the Brownsfield Mill in Great Ancoats Street — the location of AV Roe's first factory — travelling towards Oldham.

l The timings are all approximate and if the weather is against the aircraft, it will fly in the reverse direction, starting above the BAe factory at Greengate at 4 25pm.