Brassed off
Reporter: KEN BENNETT
Date published: 27 May 2010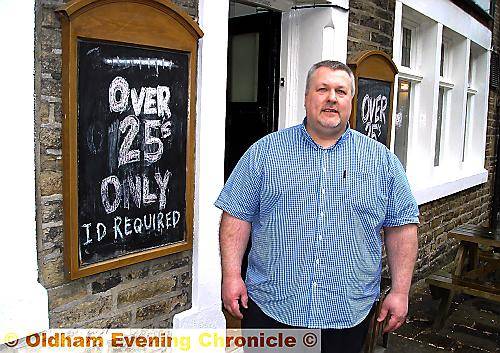 Regretful . . . Wayne Lawson, landlord of the Hare and Hounds in Uppermill
Pub closes door on band contests

A defiant pub landlord is calling time on his busiest day of the year tomorrow because of controversial security issues at the brass band contests in Saddleworth.

Wayne Lawton will close the Hare and Hounds in Uppermill at 4pm, shortly before the event — described as the UK's greatest free show — is due to start.

The move follows weeks of uncertainty and turmoil which culminated in police chiefs and council officials ordering six pubs to use security staff and plastic glasses.

Mr Lawton (47) has run the pub on High Street for nine years. He said: "I deeply regret closing — it is not a decision I have taken lightly. But we have been under tremendous pressure and the police, fire and licensing authorities could make us a scapegoat if they need to blame someone should anything go wrong.

"We don't think it is a safe environment. This is a public event and a family festival and we do not have jurisdiction over the number of people who will attend. It's regretful, particularly for our regulars and locals. Paying security staff is not the issue. But they don't know our customers or the local situation."

Problems began when landlords across the villages, some away from band contest venues, were told they had to follow the strict security guidelines.

However, after intervention by Councillor John McCann and MP Phil Woolas, sanctions were lifted for all but six pubs in the area. Now Mr Lawton has ditched the installation of a toilet block for the event and scrapped plans to have a catering unit on the pub car park.

He will also be removing wooden benches from in front of the premises and laying off part-time staff who would have been working during the evening.

"We want to keep a low profile," he explained. "We are really upset to have to take this decision on the busiest day of our year."

Pub-goer Edward Buckley (69) said: "I agree with the landlord's decision. It is very difficult from everyone's point of view."

Saddleworth publicans claim some problems are caused by outsiders who bring their own drinks to the event. Some landlords, not included in the licensing action plan, are making their own arrangements with security firms as a precaution.

Granby Arms landlady Debbie Hardie, just a few hundred yards from the Hare and Hounds in Uppermill, is asking for information surrounding previous trouble hotspots to be released.

She even hinted at standing as a parish councillor in a bid to save the brass band contests and other traditional events which she claims are being weighed down by bureaucracy.

A police spokesman said there were six drink-related public order offences reported at last year's event — and 20 in 2008.

Pubs which must adhere to the security measures are The Granby Arms, Wagon and Horses, Hare and Hounds, The Commercial and Uppermill Conservative Club — all in High Street, Uppermill — plus the Church Inn, Running Hill Gate, Uppermill.

Several off-licences must also close at 10pm and supply door staff from 4pm.

These are: Raja Bros, Oldham Road, Springhead; Simply Drinks, Chew Valley Road, Greenfield; Co-op, Chew Valley Road, Greenfield; Co-op, High Street, Uppermill; Co-op, King Street, Delph; Spar, High Street, Uppermill; and Dobcross Post Office.

Diggle Post Office will close at 7pm.