Football's coming home
Reporter: Richard Hooton
Date published: 09 June 2010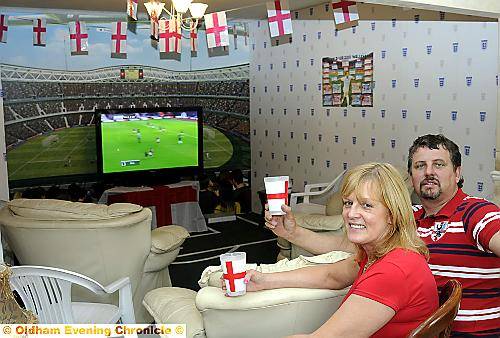 FRONT row seat . . . Mark and Karen Thompson have transformed their living room into a World Cup stadium.
Couple make a stadium in their own front room

WORLD CUP WEEK:
A COUPLE from Shaw have gone further than most in bringing the World Cup experience into their living room.

Mark and Karen Thompson have transformed their lounge in Haddon Way into a World Cup stadium to add to the atmosphere when friends visit to watch the football tournament.

Mr Thompson, a joiner, and brother-in-law Pete Fisher spent a weekend erecting three false walls to protect the room's normal decor.

They decorated two sides with England wallpaper and one with a stadium view mural where the TV showing the games takes pride of place. Finishing touches include a green carpet for the pitch complete with penalty area and England bunting and flags across the room.

An England gazebo has also been put up in the back garden where food, themed to whichever team are playing, will be served to up to 20 guests.

Mrs Thompson said: "We are quite a sporting family, my son is a rugby league referee and we're big Manchester United fans. We're very patriotic and our house has always been the venue for watching big sporting events with friends getting together for a good time.

"My husband just suddenly had this idea that he wanted to go to town with it and we got a bit carried away. I think it looks absolutely fabulous."

The fake walls will come down after the World Cup ends next month — though Mrs Thompson has been left worried after her husband mentioned keeping them up for the Euros, which isn't for another two years. And the fact that her lounge can quickly be restored to its former glory has seemingly scuppered her hopes that the initiative might force Mr Thompson to redecorate.

But she's looking forward to cheering on Rooney and the boys — hopefully at the way to the final.
World Cup fever? Enter the Chronicle's World Cup Prediction League for a chance to win a signed replica England 1966 World Cup shirt plus a host of other great prizes. To enter email worldcup@oldham-chronicle.co.uk with your predictions for the scores for this weekends games. worldcup@oldham-chronicle.co.uk