Wasteland transformed by hard-working scouts
Reporter: LEWIS JONES
Date published: 06 September 2010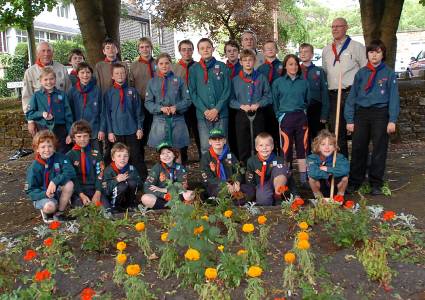 Summer splendour — Uppermill scouts gather proudly with their leaders at the rejuvenated community garden in Smithy Lane.
WORK by Uppermill scouts to transform a piece of scrubland into a blooming local beauty spot have resulted in a Pride in Oldham nomination for the dedicated youngsters.

Members of the 20th Oldham Uppermill Methodist group got to work on the space in Smithy Lane, Uppermill, transforming the litter-ridden wasteland into a stunning community garden.

After starting work last year, they marked out flower beds and planted hundreds of colourful and delicate plants.

One appreciative local has now nominated them as candidates for one of the prestigious awards — handed out to recognise unsung community heroes in the borough.

Sheila Bocking, from Lydgate, nominated the group for a job well done. She said: "I thought it was a really great thing for them to do — it's brilliant for the community and for the children involved.

"It makes a change to know that they are helping out and taking pride in the appearance of the surrounding area.

"They have shown initiative and enthusiasm and it seems to have really empowered the youngsters."

Thanks to bedding plants donated by Oldham Council and money given by Saddleworth Parish Council, the green-fingered youngsters could work their colourful magic.

The team assembled under the direction of scout leader Eddie Butterworth, who recently won a Saddleworth in Bloom award for the best small garden.

He said: "I feel so honoured to be nominated and the youngsters are absolutely over the moon. This is something that is ongoing — it is not just a flash in the pan because the youngsters are so enthusiastic.

"The scouts have loved learning how to garden and to be able to make a difference in the community really is a bonus. It has really impressed people who live near by.

"They are a cracking set of youngsters and I'm really proud of them and the support their parents give us."

It is straight back to work for the group, made up of boys and girls aged 10 to 15, who recently returned from an adventure trip to Italy.

Plans to develop the garden further, to keep it looking splendid, are already under way.