Tackling odd jobs benefits RU club
Reporter: RICHARD HOOTON
Date published: 21 February 2011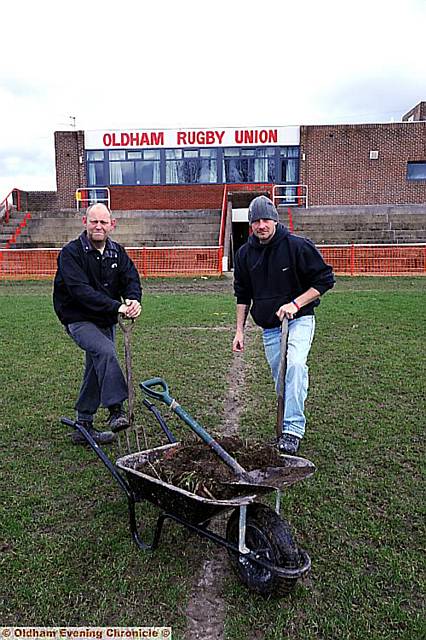 PAYBACK time ... Darren Young (above, left), helps out Oldham Rugby Club groundsman Alan Hollingsworth.
OFFENDERS are serving their punishment by improving a rugby club's grounds — with one even joining the team and becoming a top try-scorer.

They are carrying out Community Payback at Oldham Rugby Union Football Club by tackling odd jobs.

The club, which is more than a century old, runs four teams as well as two junior squads and has three pitches, a Crown Green bowling team, a newly refurbished club house and gardens at its Manor Park home, on Byrth Road, Bardsley.

Oldham's Community Payback unit, which is part of the Greater Manchester Probation Trust, first got involved with the rugby club a couple of years ago.

Community Payback is a punishment for breaking the law, rigorously enforced by probation.

Groundsman Alan Hollingsworth, who doubles as the club's third XV manager, said: "Like all community organisations at the moment, times are hard and we are struggling for finances and so the support we are getting is a great help.

"I ask the offenders what they can offer as there are many jobs which need doing and some of them have experience in different areas.

"So far we've had one who's pointed the brickwork, a painter who painted the club sign and a man who completely cleared undergrowth from a bank.

"One of the men who completed his Community Payback here now plays for us, he's fitted in brilliantly and is a credit to the club. He's the top try scorer in the team I manage."

That player is Martin Kenny who has completed his payback and has been promoted to the first team.

Alan now supervises low-risk offenders twice a week as part of an "agency" arrangement with Oldham Probation which sees low-risk offenders supervised by community groups.

He added: "They work hard, and it's vitally important for us. If the place looks good then that encourages businesses to hold functions here and that provides a source of income.

"It also gives us pride that away teams visiting our ground are impressed."

Caroline Edwards, Community Payback Officer, oversees the agency scheme run by Alan.

She said: "In a very real way the offenders are paying back for the crimes they have committed.

"We are delighted to be working with the rugby club and if any other community groups are interested in making similar arrangements I would be delighted to speak to them."

To find out more about the club either call 0161-624 6383 or simply turn up for training nights on Tuesday and Thursday at 6.30pm.

To contact Oldham's Community Payback team please call 0161-620 4421.