River Irksome...
Reporter: Richard Hooton
Date published: 30 March 2011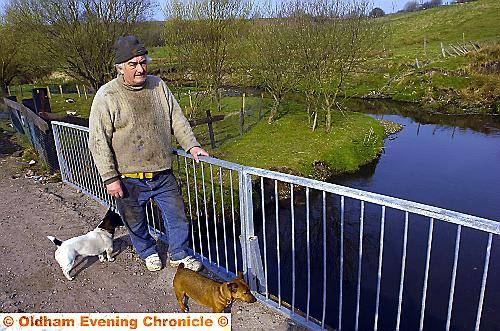 Photo: Picture by DARREN ROBINSON
FARMER Ben Lancaster at the polluted River Irk.
Sewage works blamed for waterway pollution

A SEWAGE works has been blamed for turning a once pristine river into a filthy mess.

Farmer Ben Lancaster says sludge has been discharged into the River Irk at Mills Hill from the near by Royton Wastewater Treatment Works. He says the pollution has been going on for the past six weeks, but despite complaints to Oldham Council and the Environment Agency, nothing has been done.

Numerous clean-up projects by the Environment Agency created a clear river, but it has now been reduced to a filthy and stinking mess full of toilet paper and sanitary towels.

Mr Lancaster, who lives on a farm near Mills Hill Station and next to the river, said: "The river is absolutely filthy. They must have sluiced it out on a daily basis as there's a layer of sludge in the bottom now. The Environment Agency did an excellent job of cleaning it up, but the sewage works are messing it up again. I can't describe how bad it is. It's like a constant stream of sewage.

"It's just the stink and the fact that the Environment Agency worked so hard for years and expense, and it's wrong that it's being messed up.

"It was a nice river bed that looked beautiful. The water was crystal clear but there's a layer on the bed now and it doesn't look good at all. It wants stopping."

The former demolition specialist, who has bred everything from giant pigs to miniature goats and wild American turkeys, says the pollution is affecting wildlife.

The 70-year-old added: "It's choking my ducks. I have had to keep them off as it's that filthy."

An Environment Agency spokeswoman said United Utilities, responsible for the sewage works, is investigating.