Knock-out guy Eric's fight for his dream
Reporter: Martyn Torr
Date published: 13 June 2011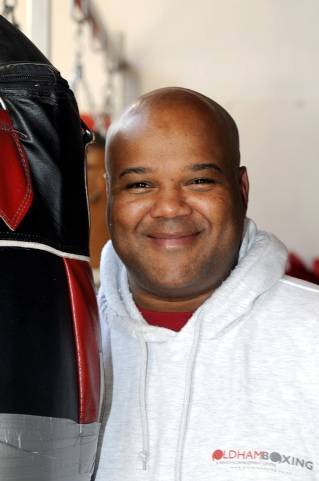 ERIC NOI — charismatic
MARTYN MEETS...sportsman Eric Noi
SOMETIMES in life you meet a person who is so well rounded, so utterly content that you can't help but wonder: why I can't I be like that?

I had the privilege, and I use the word sparingly as I have met some truly wonderful and inspirational people in the compilation of these articles, when I spent time with Eric Noi.

I hadn't met the guy before and when he suggested we meet in the lounge at Lancashire Health and Racquets Club in Middleton I was concerned about how we would recognise each other.

It was a fleeting moment... his personality, his aura, entered the room before he wandered across wearing a beaming smile and an invisible cloak of invincibility.

Had he taken that into the boxing ring he would surely have figured higher in the echelons of the pugilistic art that has dominated his life for 34 years.

Not that this Middleton lad had an inconsequential career. He represented England at amateur level all over Europe, fought for his country in the amateur world championships in Cuceascu's Romania, where he reached the quarter finals, and was ranked in the top-10 super-middleweights in the country when a shoulder injury forced him out of the pro game in his early 30s — his "prime" as he chided me.

He was to take that approach throughout our convivial chat, his personna in direct contrast to my unbridled impatience born of a lifetime dominated by deadlines.

I doubt that Eric Noi has ever kowtowed to a deadline in his life, save being there for the first bell in his countless amateur fights and 11 as a professional.

For this man is the ultimate laid-back dude, yet he consumes all he tackles with a relentless, restless ambition that has led to Oldham being on the verge of a life-changing project that will surely attract national recognition.

His pursuit of a centre of excellence — my words, not his — for the Oldham Boxing and Personnel Development Centre currently housed in wholly inadequate premises in Derker has been realised.

Two years after he first sought to relocate his pet project to Victoria House in Greaves Street, the former Casson's Commercial Centre which had stood empty for close on 20 years, is now about to be transformed.

Eric is quick to acknowledge the assistance and support he has received from Oldham Council regeneration officers Mark Prestwich and Elaine McLean in securing the premises in the face of his relentless persistence.

I suspect he was difficult to resist — rather like a terrier with a favourite squeaky toy. His boundless enthusiasm and bubbling undercurrent of energy probably wore down the people who initially insisted that the property's prime town-centre location meant it was not feasible to house the project borne in 2007 out of the Oldham Drug and Alcohol Action Team.

This was what brought Eric to Oldham. He was recruited to manage the project at a time when the authorities, in all their guises, were at their wits' end in dealing with persistent offenders.

Eric's perception, and his understanding of the underlying issues and problems, made him a shoe-in for the role, although I suspect that the people whose wisdom put him in place where unaware of the man's depth and hidden talents.

They had a recruited an uncut diamond and his contribution to Oldham society has been, and continues to be, immense.

Eric brought a refreshingly bright and open-minded attitude to the problem of tackling the borough's substance users and abusers.

Believing implicitly that boxing is a metaphor for life, his approach was to engage them in something meaningful and hence the Oldham Boxing and Personal Development Centre was born.

He told me: "Self confidence is eroded every day and dysfunctional behaviour is a result.

"In a society that is obsessed by processes instead of outcomes, we had to take a different approach."

And Eric, whose family roots can be traced to Ghana, knows all about different approaches. The second youngest of nine children, whose father died when he as two, Eric worked his way through Queen Elizabeth School in Middleton and his natural skills and ability at science and chemistry took him to Manchester University.

It was the start of a journey that ran parallel with his boxing career, starting with trainer Ray Fox at Langley Spartans. He had his first bout aged 11 at the Dyers' and Polishers' Working Men's Club in Langley, beating Karl Walmsley to win his first medal.

"Boxing, believe it or not, was a calming influence on me," he recalled, laughing out loud as his did so, remembering: "I was a bit lively at home, I was short-tempered and always in tussles of some sort, usually with my sisters.

"I had lots of energy to burn and mum took me to the Spartans. I started training with older lads and found it daunting. It was a great leveller.

"Boxing was a positive influence on me, no question."

He has always, he says, been fully aware of what his sport can achieve in terms of being a vehicle for change.

One such person is Charlie Enson, a Middleton lad now living in Chadderton, who entered the system through his misspent youth and whose life has "changed massively" as a result of the programme.

Charlie is now one of the leading lights at the project, a living, breathing. working, everyday example of how change for the better can be achieved.

Four years on, more than 1,000 people have been through the project and, hopefully, once the new centre is open, working in conjunction with what will remain a satellite site in Derker, these numbers can grow and grow.

This is Eric's dream and it is within touching distance. The move will be a quantum leap for the project but it is a giant step for Oldham that Eric and his team will take in their considerable stride.

For Eric Noi is a man who dared to dream, who dreamed of a degree and achieved, who dreamed of a second degree in psychology and achieved, who dreamed of rugby camps for his son Isaac and achieved, who dreamed of career in music and was shortlisted for a MoBO award.

But that only spurred him on.

He recalls a poster in the gym in Derker, decorated by words from Oldham College students. Above an image of Muhammed Ali, arguably the world's greatest ever sportsman, left sprawling after a savage attack by Joe Frazier in the boxing ring, are the words: "Our greatest glory is not in never failing, but in rising every time."

Eric has risen every time and passionately believes that everyone else can, too. He has risen above all the challenges that life and career can throw at him, including BNP stickers on the door of the run-down Derker gym, but he will never give up on his dreams.