Stott painting to fetch record amount?
Date published: 15 June 2011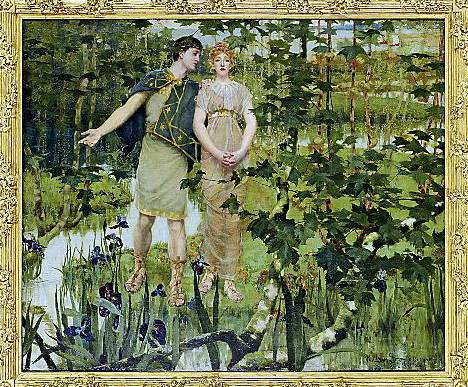 UNDER the hammer... The Happy Valley could break the record for a Stott
AN oil painting by the highly-regarded but tragically short-lived artist, William Stott, of Oldham, could fetch up to £120,000 when it goes under the hammer today.

And if the 4ft by 5ft picture, entitled The Happy Valley, does sell for that sum at Christie's in London, it will smash the existing record for a Stott painting by more than £100,000.

The current world auction record for a Stott work is only £18,000, the sum paid at Christie's in 2005, for a picture titled "Idlers".

Stott was born at Oldham in 1857, and trained at the Oldham School of Art.

According to Stott's biographer, Roger Brown, Stott left for Paris in 1878 at the age of 20 to train with the classical French painter, Jean-Leon Gerome.

"Adopting a Realist style of painting, he achieved rapid success being medalled at the Paris Salon in 1882 for his painting, The Bathing Place.

He quickly became a hero figure among British and American artists in Paris and was an influential member of the international colony of artists at Grez-sur-Loing, near Paris.

Victorian art critic RAM Stevenson realised that Stott was something special and he noted in The Studio arts magazine of October, 1894: "William Stott, of Oldham, sprang into being as an artist with the rapidity of a comet rushing to the sun."

Stott was only 42 when he died in 1900 on a sea crossing to Ireland.