Parents in plea to save nursery
Reporter: KAREN DOHERTY
Date published: 11 August 2011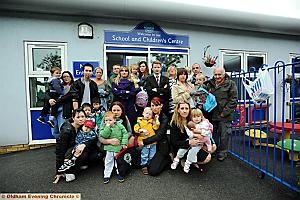 Photo: Picture: VINCENT BROWN
Parents and children at Failsworth Children's Centre.
STUNNED parents have launched a campaign to save the day-care nursery at Failsworth Children's Centre.

They face a scramble to find alternative provision for their youngsters after being told that it would close at the end of October.

The children's centre is based at Propps Hall Primary and is run by the school. It recently received a £182,000 grant to refurbish and improve its day care.

Parents have contacted local councillors, their MP and education secretary Michael Gove in a bid to save the nursery. They also met last night with the centre's manager.

Amy Woods, whose daughter Alice attends the nursery, said: "There is a private nursery opening up in the old Liberal Club. It is supposed to be opening in September but it is still a building site at the moment

"All the parents are being routed there but obviously it is more expensive. We have been told Failsworth has a shortage of nursery places anyway and we do not feel that this one should be closing.

"When Alice started last year the nursery was in temporary accommodation. I believe they have spent over £150,000 on it — it was extended and all refurbished.

"They only moved back in March/ or April this year. At that time they told us they were closing the baby room because they couldn't sustain it — that was how they were intending to be able to continue with three to five-year-olds."

Sure Start Children's Centres were originally introduced by the Government to give under-fives in disadvantaged areas the best start to life by providing a range of services, including affordable child care

They have been rolled out and Oldham has 16 centres run by primary schools or charities such as the Children's Society.

The child care at Failsworth is open from 7.45am to 5.45pm on weekdays and an alternative provider could continue the service.

Councillor Hugh McDonald, cabinet member for children, young people and families, said he was not aware of any cut in council funding.

He added: "The decision to end the day-care provision at Propps Hall Day Nursery was made by the school governing body."

"The day-care nursery was originally established as a condition of the Sure Start grant for early Children's Centre sites. However, Government recently relaxed this requirement and this prompted the governors to consider whether it was feasible to continue operating without this subsidy.

"Oldham Council has a statutory duty to ensure there is sufficient childcare for working parents and those parents studying towards employment.

"A full consultation will now take place outlining a range of options — including the continued provision of day care at Propps Hall.

"All parents and the community will be invited to give their views in early September and shape the final decision."

The children's centre did not respond to the Chronicle's calls for a comment.