Girls get skates on for life at Riley's
Reporter: Beatriz Ayala
Date published: 14 September 2011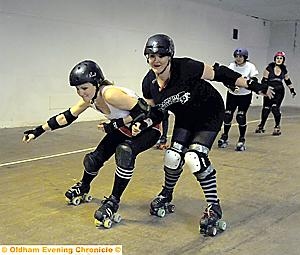 Welcome to the Thunder Dome ACTION is spiced with glamour as the fiercely competitive sport of roller derby rolls into Oldham.
ROCKING rollerskate action comes to Oldham on Saturday — when the Rainy City Roller Derby League opens the doors to its new home.

The North-West's original roller-derby league has moved into the first floor of the former Riley's snooker hall building in King Street from former sites in Middleton and Bury.

All-girls teams will train on site and compete in matches — or "bouts" — at the 11,000sq ft venue, nicknamed the Thunder Dome.

Carly Harper (30), from Rossendale, is an NHS PA by day but a keen roller-derby member at night.

She said: "We'd been looking for somewhere to call home for a long time when one of our girls, who works for a property company, spotted the venue. With Metrolink coming and the venue situated just by the college, it seemed like the perfect place to be in a town on the up."

Originating in America, the sport came to England in 2004 where it has seen a massive growth.

Over-18s from across the North-West make up two teams in the league, although they are hoping to attract more members.

The Rainy City Roller Derby travel team compete in leagues across Europe, with some members joining Team England to compete in the Roller Derby World Cup. The second team, the Tender Hooligans, are newer members who have joined through the league's new-skater training programme.

Described as speed skating with added danger, Saturday's party starts at 4pm and will see a range of fun activities on offer including music, stalls, cupcakes, a raffle and a performance from the North-West's only rock bellydancers, Rockit.

A full-length bout will be held at 5pm and an after-party will carry on until 7pm. Tickets are available on the door and are priced at £3 for over 12s, children go free and over 60s can make a donation.

For more details visit www.rcrg.co.uk.


Rules of the game
::Roller derby is played by two teams of five members each skating anti-clockwise round a track.

::The "bout" is played over two 30-minute periods.

::Each team designates a scoring player — or "jammer". The other four members are blockers.

::One blocker is designated as a "pivot"— a blocker allowed to become a jammer in the course of play.

::Point-scoring occurs during "jams", plays that last up to two minutes.

::During a jam, points are scored when a jammer in a scoring position laps members of an opposing team.

::Each team's blockers use body contact, changing positions, and other tactics to assist its jammer to score while hindering the opposing team.

::Certain types of blocks are considered fouls — referees have the power to call penalties and send offenders to spend time in a sin-bin.