Baths in the swim
Reporter: Beatriz Ayala
Date published: 26 September 2011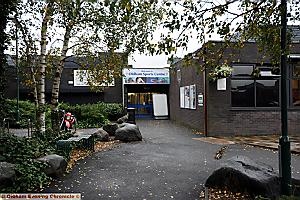 BIG plans for Oldham Sports Centre
A REVAMPED Oldham Sports Centre and a new pool and gym in Royton are planned as part of a major shake-up of leisure provision.

The new Royton facility will replace Crompton Baths and Royton Sports Centre, while Oldham Sports Centre could be refurbished or replaced.

Oldham Council has started consultation on the proposals, designed to improve the quality of leisure services on offer to residents.

The borough's sports and leisure facilities are run by Oldham Community Leisure (OCL) on behalf of the council.

The current contract is set to end and a new deal for the management of the "leisure estate" would come in at the start of 2013.

A range of bids are expected from trusts, experienced private sector operators — and from the current operator.

The new leisure proposals have been drawn up with advice from Sport England and are designed to:

::Develop exciting yet efficient leisure facilities that deliver revenue and savings and offers taxpayers excellent value for money.

::Ensure access for communities and organised groups in facilities run with residents' interests and needs in mind.

::Maximise community use of the excellent sports amenities in the new Academy and Building Schools for the Future (BSF) facilities.

::Encourage participation for all residents in leisure and activities to improve health and wellbeing.

::Contribute to the regeneration of Oldham and Royton centres.

Councillor Hugh McDonald, Cabinet member for leisure and culture, said the proposals represented an exciting vision for the future of leisure services across the borough.

He said: "These have been drawn up following a comprehensive review of our existing facilities and provision, and analysis of what we will actually need to offer in the future to adapt to changing trends in sports and leisure, and residents' needs and aspirations.

"It is very clear that some of our current leisure estate is simply not fit for purpose. It would be wrong for us to continue investing in facilities that are of sub-standard quality and a drain on resources because they are also under-used and need a high subsidy."

He said Oldham Council had already made significant investments in new centres at Saddleworth and Chadderton, and the new MAHDLO youth zone.

He added that the council aimed to use savings generated through the new leisure contract, plus the reduced council subsidy to a new operator, to reinvest in replacement facilities.

He said: "That's why these proposals include plans to refurbish or replace Oldham Sports Centre with a new 'hub' facility that will attract people into the town centre.

"The public consultation on this will run until mid-November and no final decisions have yet been made.

"We are very keen to hear from all residents and stakeholders to ensure that the final proposals fully reflect their views."

Following the consultation exercise, the final plans will return to Cabinet in December before a procurement exercise is launched to find the best operator to deliver these services in future.

An interactive map of the plans is available on the Oldham Council website from today.


LEISURE PROPOSALS

Close or transfer

Royton Sports Centre. Close and replace with new centre at Royton & Crompton School or in Royton centre.

Crompton Pool and Fitness Centre. Close and replace with new centre at Royton & Crompton School or in Royton centre.

Glodwick Leisure Pool. Close or consider transfer as going concern or community asset.

Breeze Hill Pool. Close and transfer users to other pools (Waterhead Academy moves in October, 2012).

Breeze Hill artificial pitch. Remain closed but new Waterhead Academy has synthetic pitch for community use.

Grange Sports Centre. Close (managed by Oldham Academy North which moves in April, 2013).

Grange synthetic pitch. Close or transfer to Oldham College.

Oasis Academy. Kaskenmoor school-based facilities close in summer, 2012. Ball hall future operations under discussion.


Retain or improve

Oldham Sports Centre. Refurbish or replace with more efficient facility in town centre.

New pool and sports centre at Royton and Crompton School or in Royton centre. New facility, managed by operator.

Saddleworth Pool and Fitness Centre. Retain.

Royton and Crompton synthetic pitch (at Royton and Crompton School). Retain.

Bishop's Park pitch and putt golf. Under consideration (part held in trust).

Chadderton Health and Wellbeing Centre. Retain.

Radclyffe Athletics Centre. Retain or transfer to Radclyffe School.

Failsworth Sports Centre. Retain with sand-based pitch and tennis courts potentially transferred to Failsworth School.

Chapel Road synthetic pitch. Potential transfer to Oldham Athletic Community Trust with Oasis Academy Oldham community use.

Waterhead Academy, Counthill. Playing fields and sports building to be retained and leased to Waterhead Academy.