Beer walk's shock cancellation
Date published: 16 November 2011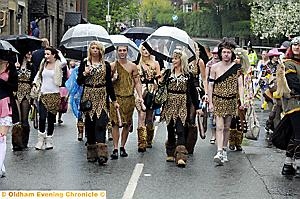 IN high spirits: walkers have enjoyed the celebration for almost 40 years — whatever the weather
THE massively successful Saddleworth Beer Walk has been scrapped in a shock move by Round Table organisers.

For the first time in 39 years the much-loved event will not go ahead next year — organisers can't meet the huge costs of policing the event. Round Table members came to the agonising decision after estimating it would cost £58,000 to stage the walk next year.

This year's walk was a record-breaker, with 2,500 participants raising £41,000 for charity. But the walk was plagued by trouble — with at least 4,000 unofficial walkers joining in the parade, bringing with them large quantities of their own alcohol. Bottles were thrown, smoke canisters let off and arrests made.

Beer walk chairman Dave MacDougall said: "It is an absolute tragedy that an event which has raised so much money for worthy causes — and really put Saddleworth on the map — has had to be scrapped.

"It was a devastating decision. We have been agonising over the walk's future for months, but eventually after consulting current and previous walk organisers we sadly decided to cancel next year's event."

A police officer suffered a broken rib after being knocked to the floor at the walk in June, while organisers say rogue walkers were abusing the good nature of money-giving locals to fund their own drinking binges.

The 11-mile trek across the villages has become the highlight of the calendar for outlandishly-dressed fundraisers from across the country, starting from humble beginnings in 1973.

Delph landlady Michelle Fenton from the White Lion was the headline sponsor this year.

She said: "I've never seen any trouble personally but we're only half-way around the route. My concern is that if it is not organised, people will still do it, take it into their own hands — and pubs will bear the brunt.

"There's an awful lot of money raised for charity and they are the real losers in this situation. Everybody is really sad to see it go — shops, pubs and hotels really benefit from the whole weekend so this will have an effect on trade."

Fellow Delph landlord Stewart Thewlis, from the Bull's Head, said: "We're really upset to see it cancelled.

"It's the best day of the year for me, so this will have a great effect on the business."

Round Table organisers are now looking for another community event to replace the walk, but want to preserve their reputation.

Dave MacDougall added: "We examined every aspect of the walk in great detail, from marshalling to reducing the number of beer stops, but could not find a formula to keep it intact and affordable."

On top of the money raised through entry fees, walkers also raise on average £150-£250 for their own causes by collecting in buckets.

But organisers said they would have needed police support in order for the event to go ahead.