Oldham's Children in need success
Date published: 21 November 2011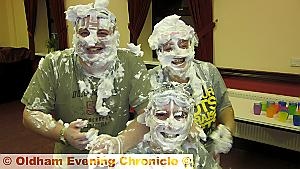 SCOUT leaders Kathy Temple-Heald, Jay Wilson and Simon Caine (left) got pie-eyed for the charity
YOUR efforts helped raise thousands of pounds locally for the annual Children in Need appeal.


Loveable Pudsey embraced the charitable spirit by visiting youngsters at Royal Oldham Hospital. The Children in Need mascot popped into Teddies Day Nursery where he waved and cuddled the tots, who were all smiles on their fundraising baking day – totting up just under £100. And Pudsey delighted primary school children across Oldham last week by calling in at seven schools to boost their fund-raising effort – Mills Hill, St Matthews, Thorp Primary, Chadderton Hall Junior, St Matthew's Play group, St Anne's C of E and St Paul's C of E.



CUB Scout leaders were pied for Pudsey. Cubs in Moorside took delight in raising money for Children In Need by throwing custard pies at their leaders.

Each of the young phantom flan-flingers attended their cub night in fancy dress and paid £1 per pie to splat their leaders. The group raised £75



Jessica Anderson, Alice Ogden, Rhianan Holderness and Alanis Maher - four friends at Hey with Zion Primary School in Shaw - got fund-raising spot on by wearing spotty ears — and colourful spots on their faces — 24 hours a day for a week to raise money. From swimming to sleeping and lessons to playtime, the ears stayed put until Friday. They were inspired by the appeal's new mascot, Blush, who is a friend of Pudsey Bear.



FUNDRAISING antics continued into Saturday morning at the Doris Johnson Centre, in Holts. Hundreds of pounds were raised through a tombola, face painting, a coffee and cake morning and raffle with some fabulous prizes. Annie Kingston's three hours of walking backwards topped the list of money-raising activities.



PUPILS at Whitegate End Primary iced a mammoth 300 Pudsey Bear cookies for Children in Need.

Members of the cookery club at the Chadderton school spent two hours putting the finishing touches to the biscuits which were sold on Friday.



SHAW United Reformed Church raises money throughout the year for Children in Need by holding monthly bakes. And the church held a concert on Saturday to raise even more money, which featured monologues, singing, sketches and even youngsters performing a pantomime.



JOINING the Children in Need festivities were pupils and teachers at Alt Primary, who came to school dressed in their pyjamas. Alongside a themed 'Bring your Ted ready for bed' day, money was also raised through a Zumba-thon, decorating biscuits and making clay models of Pudsey Bear.



MORE than 200 pupils of Blackshaw Lane Primary School swapped red for blue on Friday. The youngsters cast aside their usual red uniforms and went to school dressed in blue. The teachers followed suit, and everyone donated £1, which the Royton school plans to donate to the Junior Diabetes Research Foundation. They raised just over £200.



OLDHAM College students baked an array of tasty treats to raise money. They sold the cakes and biscuits to family and fellow students, and also held a name-the-teddy competition.



HATHERSHAW College pupils joined teachers for an impersonation show to raise money. The school collected thousands of pounds through a range of activities including the sale of tickets for the show, a bucket collection, a bake sale with goods cooked by parents and pupils, and a raffle.



STUDENTS at North Chadderton School snapped into fundraising action by selling Children in Need merchandise. Buckets were handed around to collect donations and a raffle, which included prizes of meals for two, cinema tickets and bowling, added to the spoils.



See pictures from these events by clicking our 'buy a photo' tab at the top of the page.