45 new jobs as pub opens doors
Reporter: HELEN KORN
Date published: 09 December 2011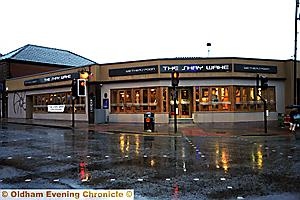 Wetherspoon's new pub in Shaw
JD WETHERSPOON'S new pub in Shaw opens its doors on Tuesday, creating 45 jobs in the process..

The national chain spent £1 million redeveloping the outlet, on the site of the Four Lane End shopping centre in Milnrow Road, which was destroyed by fire in December 2009.

The new pub will be called The Shay Wake. When Shaw was a booming mill town, the Wakes holidays traditionally started on the first Saturday after August 13.

In the words of the dialect song Shaw Wake, it was a chance to "lay aside aside yur wheel un loom' and head where 'thur's flying boxus, boats, and shows, un fruit, un pies, un tay cakes . . . in fact, 'thur's everythin ut Shay Wake."

The new pub will specialise in real ales, serving a wide range of beers, including some from local brewers. It will open from 8am-midnight Sunday-Thursday, and 8am-1am Friday and Saturday. Food will be served until 10pm. The pub will be wheelchair accessible and have a specially-adapted toilet.

The pub also boasts a sculpture made from salvaged parts from defunct cotton mills, by Mossley artist Richard Dawson.

The main entrance ceiling feature lists cotton mills from the area and the design inspiration for the pub is taken from cotton mill machinery and equipment.

Photos, local history artwork and information boards relating to the history and characters of the area, will also be displayed.