Crimewatch
Reporter: LEWIS JONES
Date published: 19 January 2012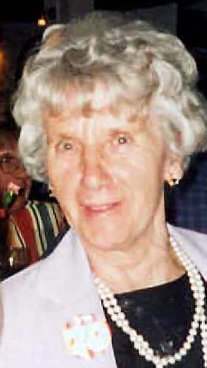 Nellie Geraghty
TV reconstruction tracks Nellie's final moments in bid to find killer
A "CRIMEWATCH" reconstruction is being filmed in Shaw today in a bid to snare Nellie Geraghty's killer.

BBC camera crews are set to be despatched to the area surrounding the tragic great-grandmother's Elizabeth Grove home to film scenes for the programme due to be aired next Thursday.

It comes precisely eight weeks after the attack, during which the 79-year-old suffered fatal head injuries when her handbag containing her husband Frank's ashes was snatched.

The show will use actors to stage the reconstruction at Nellie's home, and follow her last movements towards the alleyway where she was attacked between 11.50am and noon on Thursday, November 24.

The programme will also contain new emotional interviews with Nellie's sister Maureen and her daughter Christine.

It follows a fresh appeal from Detective Chief Inspector Joanne Rawlinson and Greater Manchester Police for information in a bid to catch the killer and recover the ashes.

Although Nellie's funeral took place on December 21, last year, the family now have her ashes and hope to bury them with Frank's to fulfil Nellie's dying wish.

DCI Rawlinson said: "The answer is in the community and this reconstruction may just impact on someone who has so far been reluctant to get in touch.

"The family have not given up hope that Nellie and Frank can be laid to rest together. Two months on we are still fully committed to recovering that bag and finding out who has done this."

The senior investigating officer was intent on assuring people that a highly-trained team of detectives will be dealing with calls in the strictest of confidence.

It's hoped a high-profile campaign over the coming week will spur locals to offer up that golden nugget of information police are still trying to trace.

Today, poster vans boasting a £5,000 reward for the recovery of the handbag were circulating Shaw while local officers were once again knocking on doors and delivering leaflets.

As revealed in the Chronicle yesterday, a kind-hearted man who wishes to remain anonymous has put up the cash after being appalled at what had happened.

It was initially offered in the days after the attack, when information was flooding in from locals.

DCI Rawlinson added: "It was a generous offer from a man who was outraged and wanted to do his bit to help.

"We were overwhelmed with the public's response and the information was coming in thick and fast so we didn't feel we needed to offer the reward.

"Despite all that help, we still haven't recovered the handbag and now the reward may just act as that extra push for someone who has been reluctant to come forward before.

"This was an attack that not only robbed the family of a mother, sister and grandma, they also lost Frank too."

Scenes and interviews for the "Crimewatch" programme were originally shot last year and were due to be screened in December.

But the show was halted after police arrested a 37-year-old man, who has since been released on bail until Tuesday, February 14.

Two teenagers who were arrested have also been bailed until February.

Part of the bolstered campaign is to try and identify several potential witnesses who may hold vital clues to the attack.

Two youths, seen heading from Elizabeth Grove are being told to get in touch with police, while detectives are also appealing to another two individuals spotted crossing Rochdale Road to walk on a dirt track alongside the Star pub at 11.50am.

A white man seen smoking in a garden near the alley, accompanied by a child around four-years-old, is also being traced.

Should the bag be recovered it will be subject an extensive forensic examination in the hunt for clues.

Anyone with any information should call the major incident team on 0161-856-5448.