DJ ditches decks to play-out piano wish
Date published: 31 January 2012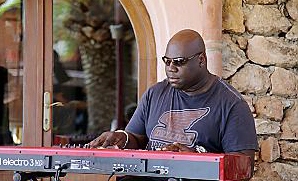 CHALLENGE . . . Oldham-born DJ Carl Cox
A SUPERSTAR DJ from Oldham will rekindle his first love of music in a new television series to be screened next week.

World-famous music maestro Carl Cox will step back in time to learn how to play the piano — a skill he hasn't turned his hand to since being a youngster.

He'll take on the mission during "First Love", a new series to be shown on Sky Arts 1 on Tuesday, February 7 (8pm).

Long before he took to the decks, Carl, who was born and raised in Oldham, started piano lessons aged eight at the request of his mum.

But despite being brought up with a love of 1970s funk, he couldn't equate boring scales to the soulful piano of his talented idols.

As a result he can't read music and has to rely on computers to conjure his musical masterpieces.

Now, as he approaches 50, Carl has been mentored by Mercury Prize nominee Gwilym Simcock to learn to play the Stevie Wonder classic "I Wish".

He'll perform the track at Ibiza's Cafe Mambo after fitting in practice sessions between his hectic jet-set lifestyle.