Picture this — plan for old town hall
Reporter: DAWN MARSDEN
Date published: 21 May 2012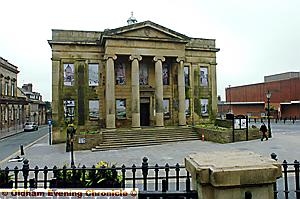 Oldham's old town hall
OLDHAMERS can step inside the old town hall for the first time in 20 years to have their say on plans to transform the Grade II listed building into a stunning family leisure complex.

Detailed drawings will be on display during a public consultation exercise in the Egyptian room — the old borough treasurer's room — on Tuesday next week (May 29).

On view will be the new proposals from architects BDP which show how the old town hall could be sympathetically redeveloped into a leisure complex incorporating a cinema and restaurants.

The old town hall, at the junction of Yorkshire Street and Greaves Street, was built in 1841 with subsequent additions being completed in the early 20th century.

Council officers moved out of the town hall and into the civic centre in 1978, although small rooms were used by a variety of groups and the court room was used as a satellite crown court until 1995.

Following its closure, the condition of the building had declined to a stage where stabilisation works to make it waterproof and safe had to be carried out.

Council leader Jim McMahon said: "This is a fantastic building and a real opportunity to create something we can be proud of — our town desperately needs a cinema and a wider range of restaurants that will bring in visitors.

"With this building we have a unique opportunity to create something much better than an off-the-shelf big shed with no character. That means it is absolutely crucial that people come along to view these proposals and let us know what they think.

"This will be a unique opportunity for people to go back inside the venue and we have also invited along a variety of special groups, such as historical societies, who have expressed concerns and interest in the future of the venue.

"We are working with BDP to produce a scheme that can potentially enable either Oldham Council or a developer to take on the building wholesale — or enter into a joint venture with us.

"The old town hall should be a source of civic pride —not a symbol of neglect — and our town centre also desperately needs a cinema. It is crucial we make progress on both these fronts and work to deliver a new family-oriented leisure facility."

The consultation event will be open to the public from 12.30-7pm. The Egyptian room can be accessed via the Firth Street entrance.

Representatives from BDP and council officers will be on hand to explain the proposals and answer questions.