Public outpouring for Saddleworth's Nicola after 'darkest day' for police
Date published: 19 September 2012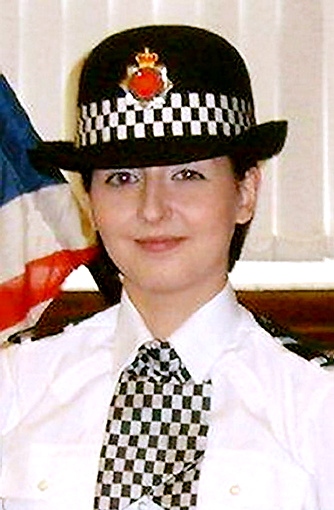 PC Nicola Hughes . . . Saddleworth community has been shaken by her death
By ERIN HEYWOOD, ANDREW RUDKIN and ANNA CLARKE


HEARTFELT tributes have been paid to Saddleworth policewoman Nicola Hughes, killed in cold blood on one of Greater manchester Police's darkest-ever days.

Thousands fell silent at Oldham Athletic's Boundary Park last night to pay their respects to bubbly PC Nicola Hughes (23) and her colleague PC Fiona Bone (32) both killed outside a house in Hattersley, near Hyde, yesterday morning.

Chief Constable of Greater Manchester Police Sir Peter Fahy described his devastation by events that led to the deaths of "two wonderful bobbies" and the arrest of Britain's most wanted man, Dale Cregan.

The one-eyed fugitive from Droylsden handed himself in at Hyde Police Station shortly after allegedly opening fire with a gun and a grenade on the two women.

Nicola, a policewoman for only three years, died moments after being rushed to Tameside Hospital.

Friend and colleague Fiona died at the house, the victim of an allegedly deliberate act to lure them to their death.

The chief constable said: "Nicola enjoyed karate. She was bubbly and loved life and socialising. She was a chatterbox and was always smiling, even after a night shift when everyone else was a bit grumpy. She was a good listener and could not do enough for people. She was a lovely friend and a great bobby."

PC Hughes is believed to have worked at the Bull's Head pub in Delph before following her dream and joining the police.

Delph councillor Nicola Kirkham said the Diggle community has been left shaken by what had happened to the former Saddleworth School pupil: "It's just tragic and a total waste of life. What else can you say? We are a close-knit community and a lot of people knew Nicola.

"Everyone has been left in shock. There just aren't the words to say how awful it is."

Nicola's father and brother live in Diggle, while her mother and partner are believed to live in Marsden.

Respects have been paid around the country in the 24 hours since the killings. Social networking sites were flooded with comments, and at the house in Abbey Gardens, floral tributes were quickly laid by wellwishers.

An old friend of Nicola's said last night: "It's really shocked me how horrific this all is, and for it to be someone so young, its unthinkable."

Debbie Abrahams, MP for Oldham East and Saddleworth, said: "I am completely shocked. My thoughts go out to the families, friends and colleagues of the two officers. It is at times like these we remember the courage and bravery of our police."






Only a small number of our daily stories appear, heavily edited, on this site. For the full story read our print or eChron editions.