Herbie just wanted to be with Ethel
Date published: 08 March 2013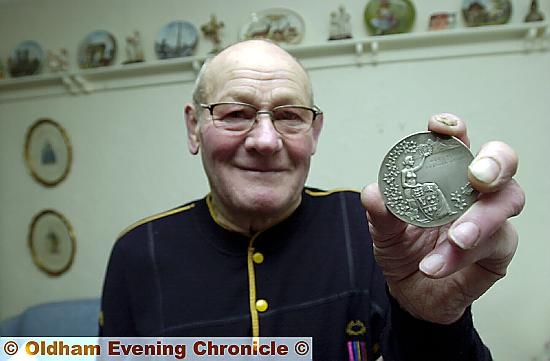 Herbert Hall with his Commonwealth Games Silver Medal from 1952
HE was a fearsome opponent in the ring as Olympic wrestler Herbie Hall.

But the heartbreak of losing wife Ethel after 65 years was too much to bear for Oldham's Olympic and Commonwealth hero. He died just weeks after his wife.

Herbie, who represented the Great Britain team in the 1952 and 1956 Olympics and won silver for England at the 1954 Empire and Commonwealth Games, was taken to hospital days after Ethel (85) died from pneumonia.

But when doctors couldn't find a medical cause for his illness they sent him home saying it had to be due to a broken heart.

Three weeks later Herbie, who lived with Ethel at Avalon Park Care Home, in Salem, suffered a heart attack and died on the way to hospital on February 26 — which would have been his wife's 86th birthday.

His family say such was the devotion towards his wife, there is no doubt he died of a broken heart.

"Herbie just wanted to be with Ethel," said his niece Tracey-Jayne Mawdsley (47), from Springhead.

"They were together for 70 years and he was lost without her, he was beside himself with sadness.

"It has been very difficult losing them both but the one thing which made it more bearable is knowing they are together now."

The couple met at Chadderton Baths in 1943 and were married at Christ Church, in Block Lane.

to read a full version of this story buy the Chronicle or register to read a digital edition.