Revolt against Foxdenton plan
Reporter: Karen Doherty
Date published: 14 March 2013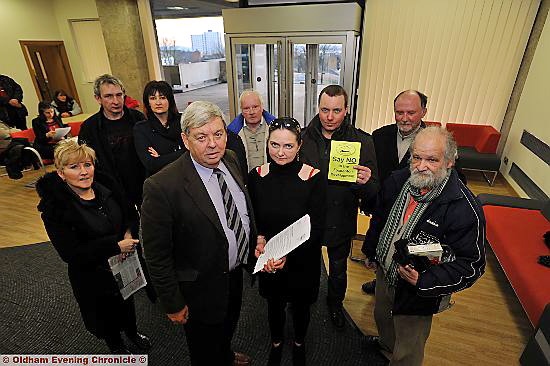 Foxdenton and District Protection Group chairman Christine Gater hands the petition to Councillor John Battye at Oldham Civic Centre.
RESIDENTS handed a 650-signature petition to Oldham council last night against plans to create a business park and 450 homes on 49 hectares of green land at Foxdenton.

The proposals - no planning application has yet been submitted - have already prompted hundreds of people to attend protest meetings.

Christina Gater, chairman of Foxdenton and District Protection Group, said: "This petition is an objection to the lack of public consultation we had initially on the proposals for Foxdenton.

Mrs Gater said plans must have been in progress for some time. On February 21, Transport for Greater Manchester submitted a £2.7 million bid for Government funding on behalf of the council towards the £4.5 million cost of a new access road to the development.

Money from the Pinch Point fund, aimed at boosting economic growth by tackling highway problems, would be topped up with £600,000 from the council and over a million pounds from the private sector.

Foxdenton LLP, the group behind the proposals says the development is expected to provide more than 2,000 jobs, with 160 full-time construction workers on the eight-year building programme.

Only minutes after the petition was handed over, more than 40 residents flooded a council planning meeting in a vain attempt to oppose separate plans for 59 two, three and four-bedroom homes on a green-field site bounded by Haven Lane, Haugh Hill Road, Counthill Road and Higher Counthill Farm, next to green-belt land.

Local residents can't understand why houses aren't being proposed instead for the former Counthill school site nearby.

Campaigners - including the Campaign to Protect Rural England - fear developers are building on green fields with Government encouragement, rather than on previously developed "brown-field" sites, because it is cheaper.