Feelings run high over free school plan
Reporter: HELEN KORN
Date published: 14 March 2013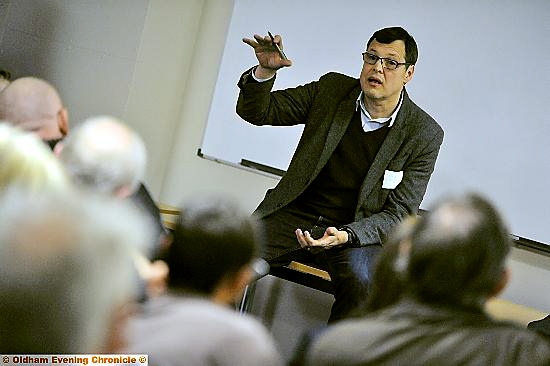 MAKING a point: Collective Spirit consultation adviser Marc Collett
AN OVERFLOWING public meeting last night aired hopes and fears over Oldham's first free school.

Parents and residents packed into the City Learning Centre in Chadderton to hear about the Collective Spirit Free School (CSFS) opening on the site of the former South Chadderton School.

The "faith-sensitive" school is due to launch in September and will at first be open only to 60 Year 7 pupils. Other year groups will be introduced gradually until the school reaches a capacity of 300.

Feelings about the new venture were mixed as parents and residents crammed into a small room for a question time session with school staff and directors.

The audience had to be separated into residents and parents when the atmosphere became heated.

Parents were told they could expect to see their children educated in a five-term year with a four-week summer holiday.

The school will also be open 33 hours a week -not the usual 25 hours - with the school day ending at 5pm except on Friday. Key subjects maths, English and science will be taught before lunch followed by opportunities to take up hobbies such as drama or art in the afternoon.

The new intake can expect to wear a royal blue and lime green uniform.

But residents were outraged with the suggestion they had been fully consulted over the plans.

They expressed fears about additional buildings being erected on the school fields, and about parking and traffic issues.

Adviser Marc Collett insisted three ward councillors had been sent letters and emails about the plans but hadn't responded.

Councillor Dave Hibbert, sitting in the crowd, said the school hadn't spoken to ocal councillors — which he considered "a prerequisite" of any proposals

CSFS director Alun Morgan, said the Department of Education had made the decision to use the South Chadderton site.

But parents seemed generally thrilled with the plans.