Glass-act Brian draws on his art experience
Reporter: LUCY KENDERDINE
Date published: 16 April 2013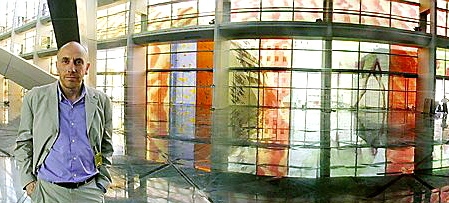 INTERNATIONALLY renowned . . . artist Brian Clarke
INTERNATIONALLY-renowned artist Brian Clarke will have his work displayed in Gallery Oldham from Saturday.

Artistic stained glass and architecture specialist Brian has generally kept his working drawings secret — until now.

The exhibition, until September 14, builds on a 2011 show at London's Saatchi Gallery, which was the first display of his work on paper in over 40 years.

Clarke's recent drawings and paintings explore line and colour and offer insights into his wider architectural work. The artist famously designed the stained-glass roof of the Spindles Shopping Centre in 1991.

Other new exhibitions coming to the gallery in the coming months include "Worn to Be Wild" - costumes inspired by wildlife and the evolution of fashion through the ages, (April 27-July 13) and the work of children's author Rodney Peppe (May 25- September 14).