Sophie radiant in red
Reporter: Erin Heywood
Date published: 14 June 2013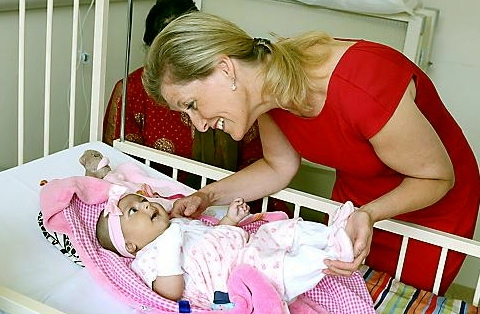 The Countess coos over little Sana Yasar on the children's ward. Pictures by DARREN ROBINSON, ANTHONY MILLER, LUCY WORDSWORTH and PENNINE ACUTE TRUST
HUNDREDS of Oldhamers cheered as the Countess of Wessex visited two multi-million pound projects in the borough yesterday.

Sophie arrived at Kingfisher Special School in Chadderton to mark the completion of a £2.5 million refurbishment and extension project.

Shaking hands with the Mayor, Councillor John Hudson, and governors and teachers, the Countess was welcomed into the state-of-the-art building to meet pupils before a celebratory assembly, where she saw a film about the school's progress, heard children sing and sign, and shared a prayer.

Unveiling a plaque to commemorate the work and her visit she said: "It's been a pleasure to come to such a wonderful school. It has the most wonderful atmosphere, generated by both the teachers and the children."

Vice-chairman of Governors Helen Crabtree was thrilled to have a royal visitor to the school.

She said: "It's a really important visit for us. It shows a lot of recognition for the hard work the head and her staff have put in. She looked like she was really enjoying herself.

"When she came in it was expected she would have an official escort, but she forgot all about that and instead held hands with the children, which was lovely to see."

The Countess was then whisked off to the £44 million women and children's unit at the Royal Oldham Hospital.

The centre is the most expensive building project yet undertaken by the Pennine Acute Hospitals Trust and includes new antenatal wards, delivery rooms, obstetric theatres, a birth centre, a postnatal ward, a children's unit and neonatal intensive care.

The Countess met new parents Stephanie Suthers and Dale Strudwick, from Rochdale, and their newborn son Bryson, born on Wednesday — the 2,070th baby since the unit opened.

She also held baby Olivia Seager, from Manchester, to the delight of her parents Mark and Michelle, before chatting with doctors, paediatric nurses and children on the wards.

She was handed white roses by nine-year-old Harrison Bullows, a youngster being treated for an immuno-deficiency illness, before unveiling a plaque.

Harrison's mum Liz Harrison said: "It was a real honour to meet the Countess today. I was really choked when she started speaking to Harrison, but once he got chatting I knew he wouldn't stop."

John Jesky, chairman of the Pennine Acute Hospitals NHS Trust, said: "Her visit has been a great privilege for all our staff, particularly those who work on the units and who have been involved in developing this marvellous new facility.