X Factor boyband star opens new-look school
Reporter: Dawn Marsden
Date published: 01 October 2013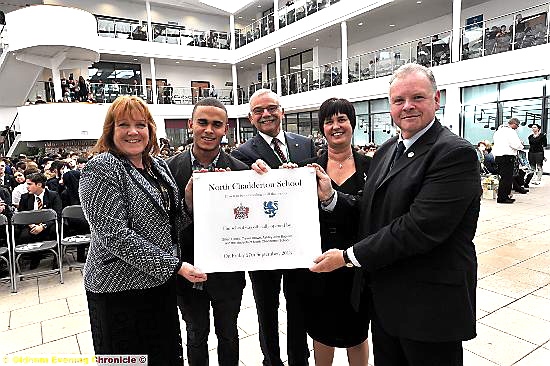 PROUD day: from left, Gillian Hindle (business manger), Ashley John-Baptiste, Garvin Crabtree (chair of the governors), Joy Clark (Head), and librarian Trevor Brown. Picture: Vincent Brown
"THE decisions you make and the things you do while you're at school will affect you for your whole life."

Wise words from former "X Factor" star Ashley John-Baptiste as he declared North Chadderton School officially open following a £23.9 million regeneration project .

The 24-year-old singer, who quit boyband The Risk to do a masters degree at Cambridge, told staff and students of his difficult upbringing in foster care, which led him to rebel and misbehave at school.

He was offered the chance to attend a summer school at Cambridge when he was 17, which he says changed his life forever.

He said: "I had a terrible record. No one believed I could do it. That made me stronger and I pushed through, worked hard and got where I wanted to be.

"You all have the potential to be outstanding. Don't let life happen to you, you happen to life. Play your part in making your fantastic new school outstanding."

Head teacher Joy Clark paid tribute to the efforts of all students and staff to make life as normal as possible as they endured three years of building work.

Miss Clark said: "It is the job of us as teachers to make a difference to the lives of young people and I am honoured to lead this school. Our new school is simply fantastic with lots to enjoy for students and staff — what more could we ask for."

Professor Brian Cox recorded a video message for students and staff, congratulating them on their new facility and wishing them the best for the future.

And the opening ceremony speeches were interspersed with musical performances from students.