£15m school plans labelled a disaster
Date published: 30 October 2013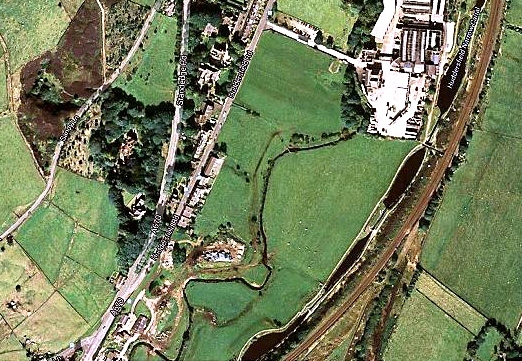 REJECTED. . . residents' opposition to the plan to site a new Saddleworth School on the former Shaw Pallet Works (top right), off Huddersfield Road, Diggle, has been backed by Saddleworth Parish council. Picture courtesy Google Maps
Parish council backs residents' opposition to Diggle move
SADDLEWORTH Parish Council has pledged to back locals campaigning against plans to build a new £15 million secondary school in Diggle.

The decision came after more than 90 minutes of passionate debate at the council's monthly meeting - at which members of the audience attacked the scheme to build on the former Shaw Pallet Works in Huddersfield Road.

Backed by other residents, Melanie Koen (33) - a Diggle resident for three years - said: "We feel Saddleworth children are being short-changed. They are the ones losing out. The decision is too quick, too sudden and too cheap — and above all a disaster for Diggle.

"We do not understand why the school cannot be rebuilt on the existing site. Uppermill currently has the infrastructure in place to support a modern secondary school. Removal of the school will undoubtedly have an impact on Uppermill's economy.

"Diggle still has village status to maintain. It has minimal facilities and it cannot support 1,500 pupils and a school staff."

Councillor Mike Buckley, the borough's former heritage champion, has formed an action group against the school plan.

He said: "This is the biggest onslaught on the Saddleworth greenbelt in the last decade. We must protect it for future generations."

Parish council chairman Councillor Graham Sheldon added: "We want the best for our children in Saddleworth and should not be rushed into a decision."

Councillor Lesley Schofield observed: "It is going to ruin Uppermill as a commercial centre. I worry we are going to be very ashamed about what we are left with in 20 or 30 years."

But the chairman of Saddleworth School governors, Councillor Brian Lord, explained the school must move from its current site, which at eight acres falls short of the 13.5 acres required by the Education Funding Authority (EFA) for 1,500 pupils.

He said: "This is a great opportunity and it would be scandalous if we missed out."

The parish council agreed to support residents in an approach to the EFA to call for a new school to be built on the current site.