Tram crash sparks calls for road changes
Date published: 20 December 2013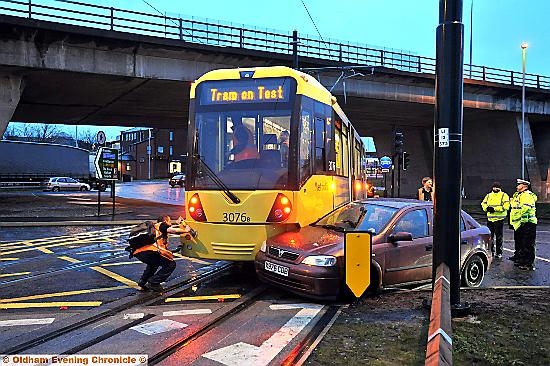 CRUNCH . . . shortly after the impact
OLDHAM'S first tram crash on the new Metrolink town centre line — a month before it even opens — has sparked calls for layout changes at the busy Manchester Street roundabout.

Police were called to the accident at the notorious roundabout yesterday afternoon after a car collided with a tram being tested on the new route.

The driver of the Vauxhall Astra was coming off the bypass on to Manchester Street and heading towards Middleton Road when his car hit the tram. There were no injuries but both tram and car were damaged.

The driver, Phillip Heaton (40) said: "There was a black Punto two lanes over. I was panicking about that going inside of me. He floored it and made it through. I slammed on the brakes and the tram went into me. I'm devastated. The layout of this road is bad as well. It needs changing. It's set out pretty badly."

Access to King Street was closed from Oldham Way and Manchester Street for over an hour in the run-up to rush-hour.