£4,500 penalty for filthy takeaway
Reporter: Robbie MacDonald
Date published: 16 January 2014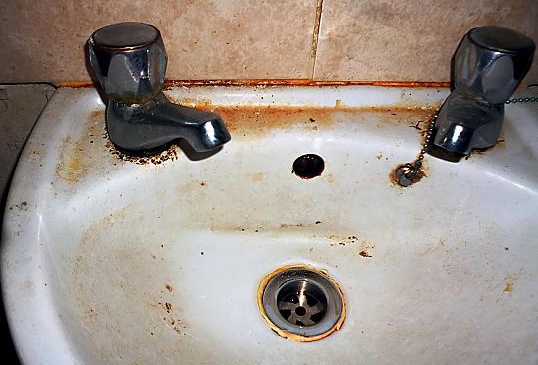 A filthy sink and tiles in the takeaway.
THE owners of an Oldham takeaway covered in mouse droppings and dirt have been fined a total of £3,000 for breaking food hygiene laws.

Ghulam Raja and wife Nigat Shaheen each admitted six charges concerning dirty, hazardous conditions at the UK Fried Chicken takeaway in Oldham's Union Street. Oldham Council prosecuted the pair after an inspection last July.

Inspectors found mouse droppings on work surfaces, ingredients and floors, dirty equipment and poor hand-washing facilities.

Magistrates were told the couple, of Sycamore Close, Bradford, also had a UK Fried Chicken branch in Dewsbury, West Yorkshire.

Under interview, Raja was "sorry and embarrassed" about the offences, Miss Curtin said. Raja said he ran the two businesses on a day-to-day level but had not been present at the Union Street takeaway for various reasons. He had done some formal food-hygiene training but the shop staff had not.

Sheehan was involved with the bookkeeping side of the businesses, she said.

The Oldham takeaway had now been closed but the couple still operate the Dewsbury outlet, the court heard.

Sheehan told the magistrates: "I want to apologise on behalf of both us. We did not realise what was going on."

The couple were fined £250 for each offence — a combined fine of £3,000 with court costs of £1,550.