Locals in tears as trees come down at Foxdenton
Reporter: Lucy Kenderdine
Date published: 27 February 2014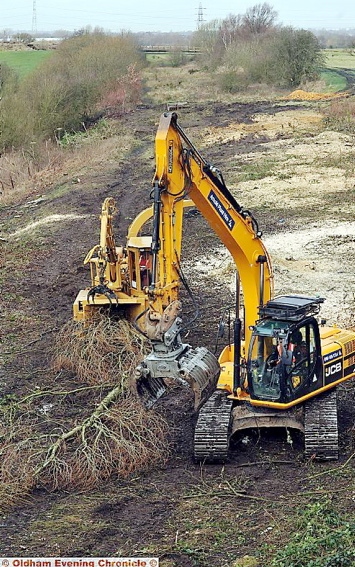 Photo: PHOTO BY DARREN ROBINSON
REDUCED to sawdust: trees are ripped from the ground.
RESIDENTS have been reduced to tears at the sight of the felling of dozens of trees and wildlife habitats to make way for the Foxdenton development and new road junction.

The work, which residents say started without warning, saw trees felled near the old railway line at Crossley Bridge, Broadway, where a new link road for the development will be built this summer. About an acre of trees was cut down.

For one woman who has lived next to the trees for almost 40 years, the emotional effect proved to be devastating, leaving her in a "catatonic state and unable to speak" following an asthma attack.

Sheila Bailey (76) and her husband Bill (78) live at a neighbouring house on Broadway just feet from the trees.

Her daughter Julia Turner said: "Their home, the beautiful countryside surrounding it and their many animal visitors are a huge and very important part of her life. When the work started, my Mum was visibly shaken and she was sobbing uncontrollably. I have never seen her so shaken and upset."

The removal of trees is one in a series of setbacks for local residents, coming only a short time after the controversial development was given outline planning permission. The site, to be called Broadway Green, will hold 500 homes and new warehouses.

Resident Pamela Norbury (67), who lives a few metres from the felled trees, said: "I think it is absolutely dreadful. Where is the wildlife going to go now? We know foxes, badgers and birds live among the trees and cutting them down means their homes have been destroyed."

A spokesperson for Oldham Council confirmed that no planning consent is needed for the removal of the trees and they are not covered by Tree Preservation Orders.

The developers have argued that wildlife in the area was taken into account before the trees were removed.