Chief speaks out on Gaza protests
Date published: 05 August 2014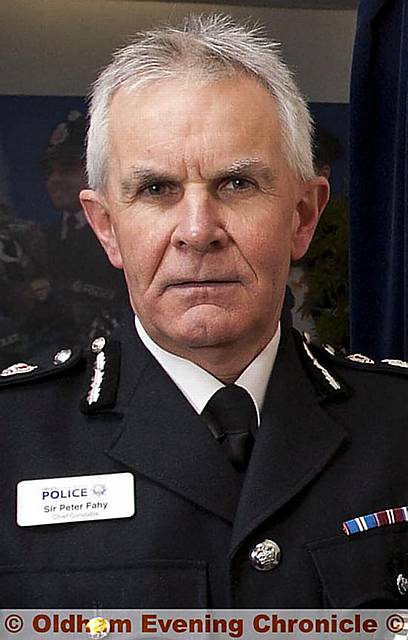 POLICE MEMORIAL PLAQUES TAKEN DOWN This morning, Sir Peter Fahy, Chief Constable for Greater Manchester Police (GMP), and Police and Crime Commissioner (PCC) Tony Lloyd took part in an official removal of plaques commemorating police officers who lost their lives in the line of duty.
GREATER Manchester Police Chief Constable Sir Peter Fahy has spoken out about the effects of recent protests over Gaza in the city.

The news comes in the wake of protesters turning out in force to boycott a Clarkesfield Tesco for stocking Israeli goods.

Sir Peter said police are in a difficult position of trying to balance the right to protest against the potential damage caused if tensions escalate.

He said: "The protests have placed GMP in the difficult position of being stuck in the middle.

"The protests have highlighted the need to strike that delicate balance between the right to protest and the potential damage to the community and whether there are other means to express their views rather than targeting one individual shop.

"GMP respects everyone's right to lawful protest. It is the fundamental right of anyone to express their views through protest.

Emotions

"The situation in Gaza has provoked strong emotions which has resulted in almost daily protests by pro-Israeli and pro-Palestinian supporters.

"We are now facing the prospect of tensions in another part of the world spilling on to the our streets, posing a risk to community cohesion."

Around 40 people protested outside Tesco on Lees Road on Saturday and Sunday holding banners saying "free Palestine" and "boycott Tesco".

The peaceful demonstrations ran from 1pm until 5pm, with people fearing that Israeli products purchased by the supermarket could help fund weapons.

Sir Peter said: "Protests result in tension and disturbance as people express strong views and emotions are heightened. While protest is a human right, those involved should recognise the effect these protests have. We must also recognise the affect protests have on the wider community.