Firemen blaze a mountains trail
Date published: 12 November 2014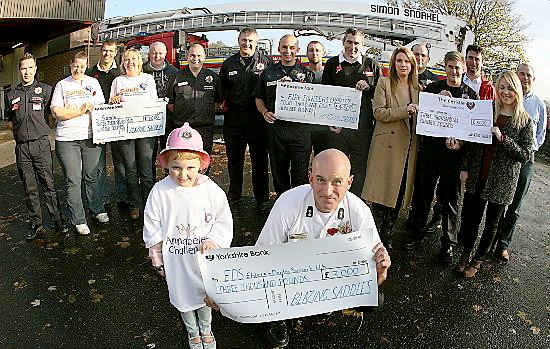 FIREFIGHTERS present the cheques to their chosen charities. In front is Annabelle Griffin (5) accepting £3,000 for EDS
FIREFIGHTERS pushed themselves to the limit scaling the UK's three highest peaks and cycling 500 miles to raise a staggering £15,000 for charity.

The group of eight men from Oldham Fire Station in Lees Road, climbed Ben Nevis, Scafell and Snowdon over four days in July.

And rather than sit back and relax between climbs, they got on their bikes!

Organiser Lee Cropper said: "It is one of the hardest things any of us has ever done but it was so worth it.

"Cycling between the peaks was tough and any plans we had of getting stuck into the beer went out the window. We were too tired after 18-hour days.

"Our family and friends endured our months of training and pestering everyone for sponsorship money.

"We set a target of £10,000, so to smash it by £5,000 was amazing."

The group has split the money between the Christie Hospital, Annabelle's Challenge (which supports people with life-threatening Ehlers-Danlos Syndrome, Stillbirth and Neonatal Research and the Firefighters Charity.