Girl power as Rebecca is first female bishop
Date published: 08 December 2014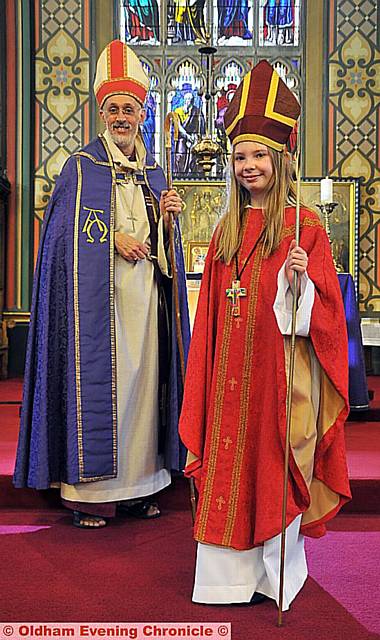 Rebecca Howarth (11) is the first youth Bishop at Oldham Parish Church pictured here with the Bishop of Manchester David Walker.
THE Church of England got its first female Bishop yesterday — an 11-year-old girl from Moorside.

Rebecca Howarth's prayers were answered, as she was officially invested in a special ceremony packed with guests at Oldham Parish Church yesterday morning, where she took over the reins from the Bishop of Manchester, Dr David Walker, who will step down from his duties until after epiphany.

The church has had a number of boy bishops in the past but Rebecca is the first girl to take the post, and is the sixth youngster to take on the role.

Although this medieval tradition is largely symbolic, it comes after an historic moment. The Church of England formally adopted legislation to allow women to become bishops last month.

Rebecca takes over from last year's youth bishop Josh Harvey, a Holy Cross pupil, from Higginshaw.

Rebecca, of St Agnes Primary School in Lees, said: "It's a really big honour. I'm really excited. I've been introduced to the bishop — I really like him. Josh has given some advice, he said 'don't panic!'"

Dr Walker recalled childhood memories and gave Rebecca a lot of advice on her new role.

He said: "This is a fabulous development to a great Christian tradition. I'm really pleased for Rebecca, we're delighted that she has agreed to take on this role and pray that God will bless her as she fulfils her responsibilities."

Rebecca was supported by proud parents Carole and Paul Howarth and her six-year-old sister Freya, who were beaming with joy and pride.

Carole (46) said: "It's an absolute honour. She's just really enjoyed it. We're so proud of her. She's taken it in her stride. She is very confident and she's used to reading prayers in church. Nothing seems to phase her."
To read a full version of this story follow links to the e-Chron digital edition or buy the Chronicle.