Step back for the Future
Reporter: DAWN MARSDEN
Date published: 09 December 2014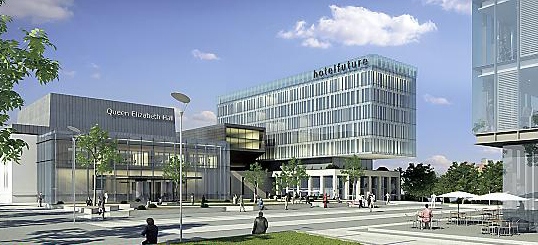 Hotel Future
THE Queen Elizabeth Hall will stay open for two years longer than expected following delays in the arrival of Hotel Future.

Plans to build the UK's first hospitality training academy in Oldham, announced in March, 2012, are still feasible — but only if government funding can be secured.

Hotel Future, which will be based next to the Queen Elizabeth Hall, will create 110 new jobs and boost Oldham's economy by around £4.7 million each year. It was due to open next year.

The QE Hall was originally due to close in March, but that date was pushed back to July and then again to this month.

It will now remain open until at least spring, 2016, when council officers will investigate ways to improve the venue to generate income for the hotel.

Discussions have been ongoing with Hotel Future with a shared view to creating the UK's first hospitality training academy at the hotel to address national low levels of skills training in the sector and provide a significant boost to Oldham's economy plus job and training opportunities for residents.

Cabinet members will receive a progress report on the hotel plans at its meeting on Monday.

The report recommends the Hotel Future model as the preferred option, subject to securing future government skills and apprenticeship funding.

It confirms there is commercial interest in operating the hotel and that its proposed location is the most suitable.

The report also sets out a revised timetable which would see the hotel open for business once other major regeneration schemes are complete.

Council leader Jim McMahon said: "We've set out an ambitious vision for Oldham town centre which will secure its future and grow the local economy.

"The report is a very thorough piece of work which has used independent assessments to examine our aspirations, measuring them against all the latest industry evidence and analysis — and ensuring we would get a good return on investment for taxpayers.

"Projects like the Odeon cinema at the old town hall, Prince's Gate at Oldham Mumps, and a new Coliseum and heritage centre will transform the town's prospects as a genuine destination for visitors and business — and that is exactly when a new hotel should open.

"The report recommends that the Hotel Future model, with its unique hospitality training, would put us on the map nationally, would maximise the benefits to residents and the local economy.

"However, the way that colleges and other skills providers are funded by government seems to change on a far too frequent basis, including an ongoing review of apprenticeships. This needs to be examined in more detail to ensure the training element will cover its costs.
To read a full version of this story follow links to the e-Chron digital edition or buy the Chronicle.