Winners on a night of glamour
Reporter: BEATRIZ AYALA
Date published: 20 February 2015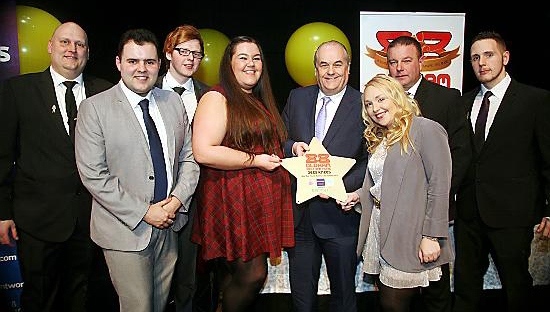 PIPPED at the post . . .Keyah Hughes (third from right), general manager of Bees Knees, accepts the Overall BBN Runner-Up award from John Kirraine (fourth from right), national account manager for Britvic Soft Drinks
Glamour was the order of the evening for the annual Best Bar None awards at the Oldham Coliseum.

More than 170 guests toasted the pubs, bars and clubs in Oldham town centre which have signed up to the scheme to help reduce alcohol-related crime and disorder.

Monday's event was attended by council officials and representatives and sponsors from the drinks industry

The Liquid and Envy nightclub in Retiro Street won the overall title, pipping the Bees Knees in Fairbottom Street.

The Outstanding Achievement Award went to Oldham Street Angels, while the Oldham Chronicle Readers' Award, went to the Hare and Hounds in Yorkshire Street.

Scooping the gold award standard were the Bees Knees; George Tavern, George Street; Up Steps, High Street; Bamboogy, Yorkshire Street; Squire Knott, Yorkshire Street; Hare and Hounds, Yorkshire Street; Limo Lounge, Waterloo Street; Oldham Coliseum Theatre, Fairbottom Street.

Silver awards went to the Old Bank, Yorkshire Street; Snipe Inn, Henshaw Street; Number Fifteen, Yorkshire Street and Last Orders, Yorkshire Street.

Picking up a bronze award was the Tokyo Project, Roscoe Street.

The national awards scheme, supported by the Home Office, is aimed at promoting responsible management and operation of alcohol licensed premises.